Online Induction >> Supervisor Training
Published 26/01/2022
Create and Design Supervisor Training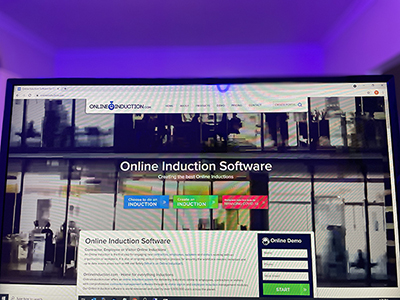 According to research, more than half of the new supervisors jump into their new roles with little or no training at all. Research also tells us that employees in the workplace end up monitoring themselves due to poor supervisors performance. Many organizations assume that a high performing staff member will transform from project management to managing their workforce without any challenges, training or supervision. However, as many of us know, managing people requires specific skill sets.
Just imagine how an individual, the team, or the entire organization will be negatively impacted by lack of training and necessary preparation. Additionally, you can imagine how investing in building your supervisor's skills to manage individuals, performance, and purpose can positively impact the person, the entire team, and the organization's future.
For a supervisor to be successful, they will typically need different skills than those that made them prosperous as individual contributors. This might involve setting up a
leadership training program
. Supervisor training will often form part of your
Online Training Platform
,
Professional Development Training
or
Employee Induction
.
The common topics to include in a supervisor training program include:
Defining the supervisor role and what to include in the online supervisor training
They should understand their supervisory responsibilities and challenges. How to demonstrate attributes that make positive impacts on their staff and the organization.
- Communication skills
The success of supervisors is highly influenced by how they communicate with their staff across the organization. Staff spend approx. 75% of the workday communicating, so it's important to understand that effective communication is a two way street for supervisors. The employees and the supervisors have to listen to each other and constructively share their opinions to ensure that every message is well received.
- Teamwork
A team is made of different employees with different work styles. Issues are likely to arise when people with differences in personalities, social styles, coaching style preferences, recognition preferences, and work prioritization styles come together. Ensuring a fully prepared and properly trained supervisors see these as opportunities instead of obstacles and use them to create a highly focused and performing team.
- Recognition and trust
Supervisors should understand the benefits of providing personalized recognition to the team members and building trust.
- Delegation
A supervisor should build skills and experience around allocating tasks to their staff and priorities.
- Pressure
Successful supervisors should learn practical strategies and techniques to prevent and relieve pressure.
Some of these areas might also be delivered through an
induction checklist
. Supervisors need to be equipped with the relevant skill sets to tackle challenges and deliver successful outcomes. It's critical to consider the pitfalls of failing to train them, subjecting the organization to greater risk.
They include:
- Exposure of the organization to liabilities
- Poor communication skills
- Challenges in resolving conflicts
- Difficulty in evaluating and managing performance
- Misunderstanding of their new roles
Any supervisor in a particular organization can face these challenges because their work involves leading people and ensure the organizational policies are adhered to. Generally, it's the art of managing and supervising, and it's a very tough balance to maintain.
Having a happy team may be enough for some supervisors, but keeping high engagement levels is important and comes with tremendous benefits. Proper engagement and management of the employees and workplace create an environment of positive attitudes.
The current world and business environments are moving faster than ever before. For supervisors to remain engaged and refreshed on management strategies, employees, and site management, they need to consider these tips:

Get to know your employees to make them feel their presence is cared for, known, and valued.

Ensure that every employee is in the right role and assign meaningful work.

Provide your team with tools for success, such as specific job training to boost their confidence.

Encourage teamwork in the workforce.

Recognize your team and reward their efforts

Check-in often and discuss engagement frequently.

Carefully listen to employee feedback and act appropriately.

Create a fear-free workplace environment.

Always coach, inspire and motivate the employees.
A supervisor is an important asset to any organization. Supervisory skills are important for employees as they are the foundation for moving up the career ladder to leadership positions. Having the supervisors properly trained helps them be more effective in their specific roles, overcome challenges, and motivate the other people around them. The next stage might be to measure what supervisor training is further needed as part of your
performance appraisal system
.
Try setting up an online supervisor course
Create your first one from scratch or use one from our existing library of supervisor courses