Online Induction >> What is a Contractor Management System?
What is a Contractor Management System and why is it important to manage contractors?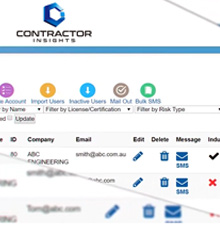 Contractor management is an important part of an organisations obligations for managing all contractors engaged to work with the company ranging from cleaners through to maintenance contractors, painters, electrical, plumbing through to low, medium or high risk trades. How they are managed ranges from procurement through to prequalification, compliance checks, induction, subcontractor management, safety review, performance management and work order management and tracking contractors on site.
A contractor management system is a tool to manage a series of workflows from initial engagement through to ongoing compliance and individual contractor management. It usually starts with a focus on engagement workflows looking at tools to manage and engage contractors before they arrive on site. It usually starts with a prequalification process where a representative of a contracting company goes through a company level prequalification and risk review. Following this if approved, their individual contractors can then register and complete an individual online induction.
The induction of contractors typically involves collecting important licenses and tickets from contractors such as evidence of training, company level insurances, presenting induction content to prepare the contractor for working on site, check lists and assessments. Once inducted, the ongoing compliance of a contracting company and its staff is managed with workflows based on tracking movements on site / check in / check out through to work order management and performance management.
Annually re-inductions should be done for all contractors and subcontractors as well as a formal safety review of the contracting company. Common areas managed and reviewed might include incident history, were all hazards reported, contractor staff attendance, complaints, provision of service, policies and procedures they have and followed, insurance history and an overall rating, should this contractor remain on the approved contractors list?
Implementing an effective contractor management system enabled an organisation to streamline and automat all these areas. Automatic reminder notifications for insurances and tickets, safety diagnostics, compliance dashboards and predictive learning review are all major elements of smart contractor management.
An online
contractor management system
is a common platform for engaging all new and recurring contractors and ensuring they go through a consistent and comprehensive contractor management process.
If you're looking to set up or enhance your contractor management process, try creating one online
right here
.