Induction Card System
Published 04/04/2023
Best practice
induction card management
involves having a dedicated and site specific induction card system for the registry and issue of all induction cards for site access across worker groups such as contractors, employees and visitors. The Induction card is used at the end of completing an online induction and details which induction was done, the date, expiry, persons name, company and even their photo.
When working in a workplace, you are often required to have done a safety induction prior to working there. This involves being issued a valid and compliance induction card as part of your verification that you have been inducted and are compliant for working on site. From construction sites to office or factory work, an induction card will verify what induction you did, when it expires, what licenses and certifications you have, identification verification with your photo and even emergency contact details in the event of an emergency or evacuation. An induction card typically requires renewal every year.
Need an induction card?
Search an induction here
View Card Templates, Registries and Examples

Safety Induction Cards
Issue safety induction cards to your contractors, employees, volunteers or visitors at the end of their Online Induction. There are lots of options here from colour coding cards for different role types (contractors might have one colour versus employees or visitors) through to different styles of issuing induction cards (physical cards that might be RFID cards through to digital passports
- Issue RFID cards for site access hardware
- Issue a digital passport card that can be scanned for a spot check on compliance
- Colour code cards for different risk levels or roles (i.e different types of contractors or different role types such as visitors versus employees)
An induction into a workplace is an important part of onboarding employees and contractors for ensuring they're aware of their duties and responsibilities, as well as any relevant health and safety procedures. Inductions are a fantastic way of introducing new staff to the workplace environment, and can also be used for contractors, volunteers or visitors. Induction cards are an essential tool for employers when carrying out inductions, providing a useful reference point for both staff members and management.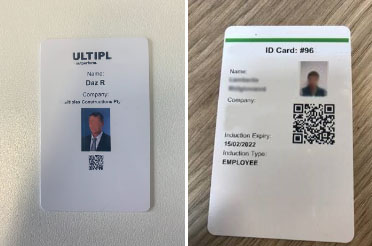 RFID Cards and Site Access Hardware
Setup check in / check out tracking based off the safety induction card. If someone goes to sign in and they are no longer compliant, the card will not work and prevent access. If using RFID cards, we have gate controller software that can enable you to integrate a sign in / sign out system to card access fully integrated to Online Induction and Compliance.
- Cards for turnstiles and RFID card readers
- Link to Induction and compliance
Check out our RFID safety induction cards and site access options:

Induction Cards generated at the end of an Online Induction
Each induction card is issued at the end of an online induction. They can be specific to different induction types such as a
construction site induction
. Depending on the organisation you are being inducted for, they commonly last one year but can go up to two years before needing a refresher induction.
Digital Compliance Passport
Another style of safety induction card is a digital passport option where the card is issued digitally and your security, safety, supervisors on site or other managers can scan the card using their phone in order to bring up licenses and view the compliance status of the contractor or employee.
This is an easy and popular method and brings a real-time data check to your induction cards. Try creating your digital induction card passport below!
Designing an Induction Card
Induction cards may differ in design based on the workplace or site and need to reflect the specific site requirements of where the worker is going to be performing their job task or activity. A typical design may include the inductees photo and their ID details such as full name and company they are from. It may also include the site inducted for, the type of induction they did (i.e. contractor induction or a specific course) as well as a QR code to scan them in as being currently on site or doing a spot check on their compliance.
From choosing the right type of cardstock and layout to displaying clear information and adding creative extras, designing an induction card will be easy and efficient. Your vision can become a reality with basic lessons in design principles - balancing space, contrast, emphasis, repetition, movement, texture and color - all while keeping your message simple and concise.
When you take the time to understand how to properly design an induction card, you'll make sure everyone knows what they need at a glance while also creating a memorable first impression for them. The use of high quality materials such as textured paper stocks or metallic ink gives additional visual effect that puts a personal touch on your induction cards so new staff members start their job feeling appreciated instead of just welcomed.
Try using our induction card designing tool right here:

Managing Site Induction Cards
Induction cards might be setup for different sites. The most common way for managing the induction card setup and issuing induction cards is to be mobile based. Using the
Online Induction card app
, contractors, visitors and employees can have an induction card on their phone and use it as a site passport.
With a mobile app induction card, there's no need to buy an expensive card printer to print cards. Staff can simply load their induction card straight off their phone.
Over 75% of the world uses mobile technologies * (July 2012 report by World Bank), delivering your induction card via mobile is common practice.
Card Printer or Stickers
Using a card printer you can print plastic induction cards or you may got a sticker option too. You can also integrate with site access systems.
Try creating an induction card or look at existing induction card designs and templates right here:

Issuing Cards for different Induction types
Sometimes you will need to issue an induction card for different types of induction (could be site specific, risk or role specific). You might have different colours based on role (contractors one colour, employees another, visitors a different colour too). Or you might have different training and licenses shown on the induction card and the different inductions they completed.
Induction cards might also have different expiry dates (six monthly, annually, 24 months etc) and this again could be tied to role, risk or site specific inductions.
Getting started
Your inductees can print out induction cards online as part of their induction or you can issue them direct
Each card has a QR Code on it
Management can scan the induction card QR Code using an iPhone or iPad to check in real time inductee compliance