Online Induction >> Construction Site Induction
Creating a Construction Site Induction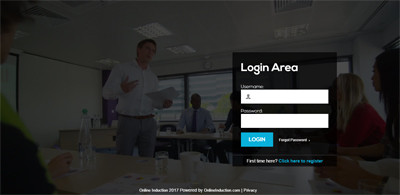 Setup a
construction site induction
or orientation online! Before workers and contractors arrive on site, they should be properly inducted on everything they need to know about working safety at the construction site.
This is the first and one of the most important parts of a worker or contractors journey in working with your construction site. Ensure they are properly trained on the site specific safety materials, construction
forms
completed, acknowledge and understand important site policies and procedures and have evidence that they have done these things. Issue an
induction card
at the end to confirm compliance and verify worker completion.
In todays fast pace world, its critical to ensure all visitors and workers to a construction site have done a site specific induction. they may have done your organisational corporate induction but what about the specific work site they are to work at? They need to understand, acknowledge and be tested on the site specific materials ranging from evacuation procedures to site specific safety and risk policies and procedures.
Our
construction site induction
is the most popular platform with construction companies for completing a construction site induction is via mobile and tablets using an
app
. This enables fast, quick and real-time access to important safety materials, check lists and site materials 24/7.

Construction Site Induction Features
Good practice construction site inductions commonly have the following structure for their induction steps and workflow.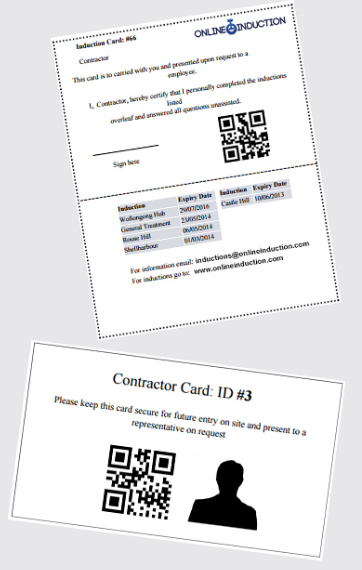 Track your contractors and workers ongoing construction site compliance

Collect certifications, expiry dates and licenses before they arrive on site

Ensure everyone has been inducted on the construction safety induction

Construction site safety assessment

Construction site check list and policy library acknowledgement

Issue an induction card for working at the right construction site

Create construction site content that is site or project specific

Collect emergency contact, next of kin, medical information & more

Ensure subcontractors are also inducted before working at the construction site

Why do construction site inductions?
You may need to have to show in an audit that everyone who entered the construction site was properly inducted.
Reduce the risk of injuries and incidents through construction site specific safety inductions
Bring awareness of site specific hazards
Centralise and streamline the entire process and ensure sub contractors are going through it to
Face to face training and assessment is more time consuming, expensive and is not consistent
Workers and contractors can complete the construction site induction before they start work and from home
Issue a formal card in acknowledgement of active compliance
Get full oversight of all contractors and workers who are at your construction site
A more comprehensive induction
Common topics to include in your construction induction
| | | | | | | |
| --- | --- | --- | --- | --- | --- | --- |
| Confined Space | Confined Space Entry | Corruption and Bribery | Fatigue | Drugs and Alcohol | Electrical Safety | Fire Extinguisher |
| Fraud Awareness | Hand Held Power Tools | Health and Safety in the Retail Industry | High Risk Environments | Hot Works | Incident Investigation | Injury Management |
| Lock Out / Tag Out | Manual Handling | Manual Tasks for Construction Workers | OHS | Personal Protective Equipment | PPE Safety | Safety Awareness |
| Sexual Harassment in the Workplace | Slips Trips and Falls | Stress Management | Sustainability In the Workplace | Work Health Safety Fundamentals | Working at Heights | Working with Silica Dust |
Construction Site Induction Form

Create your own online form, collecting the specifics you need for your construction site or project.

In real-time, map out and change the requirements of what your site or project needs to collect from your workers or subcontractors.

Capture licenses, insurances, evidence of training, expiry dates and more.

Construction Site Check List

Create your own online check list.

Formal acknowledgement of important site policies and procedures.
Construction Site Content

Transform your handbook into an online construction induction or orientation

Workers and contractors progress through the material online and are assessed on it.
Free Demo
See how our construction site induction can work for your organisation by looking at the online demo via the form above or - Contact Us and start creating your own construction induction today.