Online Induction >> Contractor Induction Handbook
Published 03/06/2023
Contractor Induction Handbook: Templates, Tips and Best Handbook Design
A
contractor induction handbook
sets out the structure of your contractor induction and outlines everything contractors are required to do as part of working with your organisation and how they both become and remain compliant. It is often your first mechanism to ensure they are properly inducted on the materials, are going to work safely on site and follow the correct procedure and practices while conducting work.
Creating a contractor induction handbook
is a complex task given how much important content and safety topics need to be covered and to ensure a comprehensive overview of contractor safety procedures, risks and policies is established. Contractors working on site are involved in a wide range of works and come from many different trades. The risk levels of work done on site can vary based on role, the site and procedures. Covering all this in a handbook needs to be presented clearly to ensure contractors acknowledge and understand everything. The handbook is commonly part of your overall
Contractor Induction
and ongoing
contractor compliance management
and
contractor management system
.
View Handbook Templates, Forms and Examples

Most Common Contractor Handbook Topics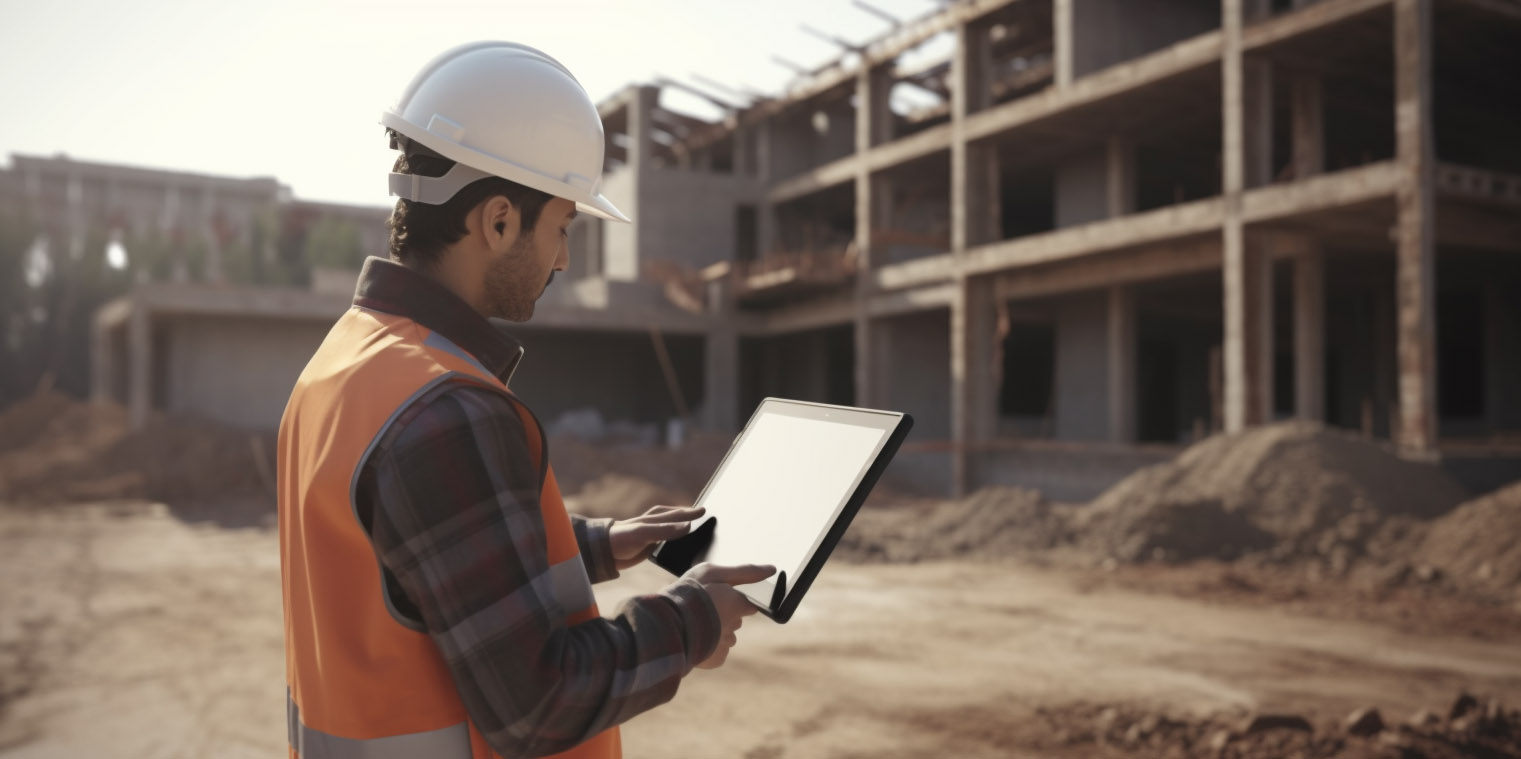 As organizations grow and expand, it's critical to properly prepare new employees to ensure their success. A contractor induction handbook explains the policies and procedures for contractors in addition to outlining expectations, rights, safety guidelines, and more. Used by employers around the world, these manuals help ensure compliance with labor laws while providing a better experience for those joining an organization.
A contractor handbook starts with the site they are working at.
- Introduction to the organisation, site or project
- Site access and which access points should be used, when, what times, how, locations and more
- Site contacts and for which issues, phone numbers and emails
- Authorisations: who to contact for what and when
- Floor plans
From here walk through the important safety topics they need to go through while working at the site:
- How do you report an incident?
- What to do in the event of an emergency?
- How to report a hazard
- What are the current hazards on site and what do we need to know about each one?
- What safety procedures need to be understood and acknowledged
- What to do and how to work safely with confined spaces
- Everything they need to know about working at heights
- How to use a fire extinguisher, where are they with a floor plan of locations
- Manual handling
- Chemicals on site, locations and what they need to know
- Any dangers on site to be aware of
- Safety policies and site specific guidelines to be aware of
Best way to deliver a contractor induction handbook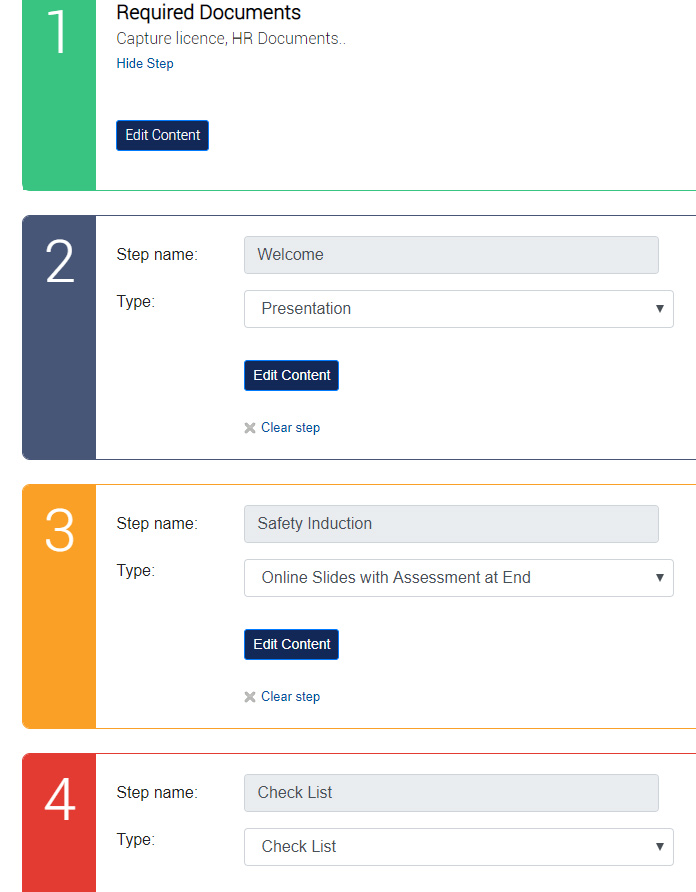 An online contractor induction handbook is the most effective way to deliver it to your contractor workforce before they start work on the job and on site. This also ensures a consistent delivery and that all contractors have read and understood the content and all policies and procedures have been understood and acknowledged online. It will commonly be part of your
contractor induction
or
contractor prequalification
process.
This is the most common and modern method for delivering a contractor induction handbook and also enables you to deliver it in a more engaging and high impact experience that the contractor will actually understand, read and learn from.
Have a look at this online contractor induction handbook template right here:

Include an Org Chart
A common item to include in your contractor induction handbook is an org chart that details and classifies the chain of responsibility and management structure for contractors working on site. Who do the contractor report to, what are their responsibilities and role. Who to seek authorisations from and the overall org chart layers of management. This can also affect reporting an incident on site, hazard, notifications, permits to work and more.
How Safe Work Method Statements are Managed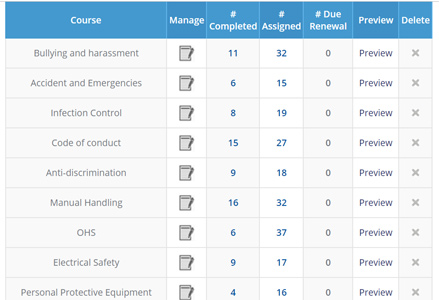 This is a common area explained and detailed in a contractor induction handbook. A contractor is expected to supply a Safe Work Method Statement (SWMS), prior to the commencement of works, based on the level of risk for the following types of high risk work. The handbook will detail how this is collected and managed by contractors when working on a site or project. What the responsibilities are and how to create new SWMS's and when to provide one.
- demolition works
- use of explosives
- hazardous manual handling
- confined space entry
- hot works (e.g. welding)
- removal or disturbance of asbestos
- temporary supports for structural alterations
- tilt-up or precast concrete
- powered mobile plant ( e.g. forklift)
- trenches or shafts deeper than one and half metres
- use of Hazardous Substances and Dangerous Goods
- work with chemical, fuel or refrigerant lines
- work with contaminated or flammable atmospheres
- work with electrical installations or services
- work with pressurised gas distribution mains or piping
- working on roads
- involving telecommunications towers
- any water/liquids that pose a drowning risk
- working at height (two metres or more)
- works in tunnels
Ensure contractors are aware of important safety procedures and policies BEFORE they start work on site
Remember, the core outcomes you want contractors to walk away with is understanding and awareness of all safety policies and procedures BEFORE they start work on site. This could mean the difference between a near miss or series incident and reporting an unsafe practice or what to do in an emergency situation.
View Templates, Edit using our online handbook creator
Try creating your own contractor induction handbook online below. Delivering the handbook in an interactive and online format enables you to properly engage and ensure contractors have acknowledged, read and understood each section of your handbook. An online handbook that is interactive with embedded check lists and assessments has a much higher chance of ensuring the contractor actually read it and understood it.

Create an Online Contractor Handbook
See how our online contractor induction handbook can work for your organisation by looking at the online demo via the form above or try out our templates right here:
Create one online using our online handbook builder or start with our templates and examples