Online Induction >> What is an Induction Checklist?
What is an Induction Checklist and why do you need one?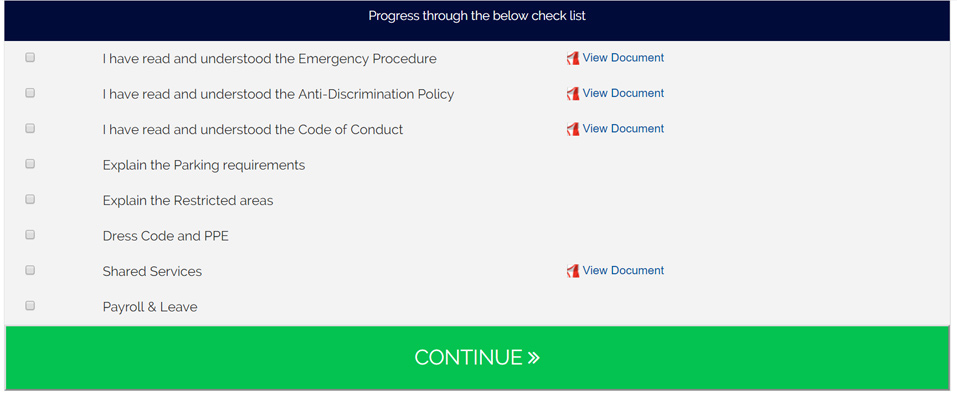 An induction checklist is used for ensuring that new contractors, employees and visitors have acknowledged, understood and are aware of important safety and HR policies, procedures and training in order to be job ready and work safely at their workplace before they start their role. The induction checklist is typically delivered online so that contractors, employees and visitors can access and progress through it before they arrive on site. There are different types of induction checklists ranging from manager focused checklists for new employees, contractor induction checklists, visitor check lists and onboarding checklists after your first day and end of first week on the job.
Common items in an induction checklist
An induction checklist can be used to cover off on many different important safety and HR items especially for a new starter. The most common topics to include in an induction checklist include:

Read and understood the Emergency Procedure

Read and understood the Anti-Discrimination Policy

Read and understood the Code of Conduct

Explain the Parking requirements

Explain the Restricted areas

Dress Code and PPE

Payroll & Leave

Understanding Critical Safety Rules

Read and understood Drug and Alcohol Policy

Read and understood the Equal Opportunity Policy

Read and understood the Health and Safety Policy

Explained Roof Access procedures

Computer setup and account setup

Explained the Restricted areas

Show the Emergency exits
Most common way to deliver an induction checklist
Traditionally a paper based induction checklist would be signed by staff but in today's modern technology world, an online induction checklist is the most common format. You can ensure each inductee acknowledges a consistent induction checklist and progresses through a common set of induction checklist items. They can progress through induction checklist items and materials before they arrive on site and you can track and record who has acknowledged what, and when.
For an increasingly mobile workforce, an induction checklist on iPhone or iPad is what is used to deliver the checklist to contractors, employees and visitors who are active in the field or work across multiple sites.
Ensure everything is understood and acknowledged
The induction checklist ensures that a consistent process is established for all contractors, employees and visitors and it ensures that they all progress through the same induction checklist items across the year and across different workplaces. They might be site specific, role specific, organisation specific or even risk level specific in order to ensure the right information is being conveyed to your inductees and is understood and acknowledged
Interactive checklists
With an
online induction checklist
, you can create a more interactive checklist experience so that important attachments can be tied to the checklist item and when clicked, its recording that the user has acknowledged the material on this date and this time.
Try creating your own induction checklists
If you're looking to set up or enhance your induction checklist, try creating one online
right here
.