Online Induction >> Induction Program
Online Induction Program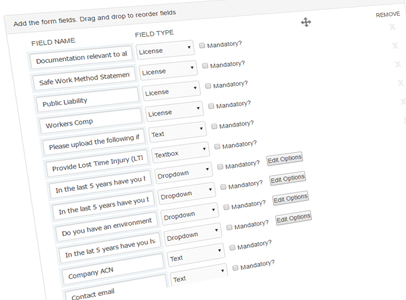 A good
online induction program
is critical for every organisation, this is the first entry point for a new employee, contractor or visitor who is working or involved in your workplace. An induction program sets out what they need to know about working in your organisation such as HR rules, procedures, safety in the workplace, policies, how to report a hazard or incident, evacuation procedures, payroll setup, onboarding into the organisation, culture and preparations for their role. Setting up an online induction program allows you to ensure ongoing compliance for your staff and contractors working on site.
There are many things to consider when setting up an online induction program such as
what steps to create
per induction type, what roles are you inducting for and what kind of induction content should you setup. Here we run through the best design and structure for an online induction program.
Building the best Online Induction Program for Contractors and New Employees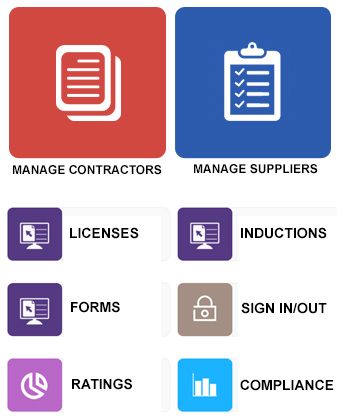 It is an organisations legal obligation to adhere to prescribed statutes and standards ranging from state and commonwealth legislation, and from industry codes of practice. These requirements mean organisations not only need to provide appropriate training and work instructions to contractors and employees, but that this is done in a consistent and timely manner, validating that the training has been done correctly including an audit trail.
Through your own dedicated induction program you can provide your inductions for employees, contractors and visitors before they arrive on site with a dedicated online induction program as well as on site.
On your induction program load all your Occ Health and Safety material, induction courses and tests, hazard registries, incident report forms and much more.
Your induction program can test the knowledge of your inductees with your own online courses and tests.
Setup check lists for acknowledgement of important workplace policies and procedures.
Creating forms are common steps to capture emergency contact details, licenses and insurances or evidence of training, new employee starter information or capture other important getting started information.
Components of a best practice induction program
1 Forms:
collecting everything online that you would have previously done on paper. Think emergency contact details, new starter information, previous work history, insurances and evidence of training
2 Safety Topics:
presentating important induction content in your program such as code of conduct, meet the team safety procedures, policies, site access and workplace hazards.
3: Document Library:
making available important materials and resources to download such as operating procedures, policies and procedures
4: Check List:
ensuring that inductees acknowledge and understand all the mateirals and resources through an interactive checklist. Make sure that on this date, at this time, they understand and have ackwowledged through sign off.
5: Assessment:
online tests and scoring to ensure that inductees have been tested on the materials in the induction program and have read and understood it. It's also an opportunity to learn from the content.
Induction Reminders
When going the induction steps, a great deal of information is collected from inductees such as licenses, certifications, insurances and evidence of training. Keeping track of these materials can be exhaustive. A good induction program will automatically track and send out reminders to the inductee on these items:
- Automatically schedule reminders to inductees for reinduction
- Set different reminder periods such as 30 days before, 15 days before, on the day of expiry and even post expired follow ups
- Setup block rules and action notifications
Want to try out a induction program setup? Get started right here:

Things to include in an Induction Program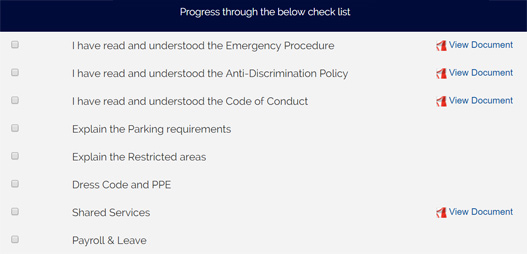 Contractors and staff need to provide information to your organisation, you need to present materials to them and ensure they understand them. Common items might include:
- Company Occupational Health and Safety Policy
- Company Officer responsible for OHS
- Hazard assement procedures / safe working procedures
- Licenses, safey/skills training, including induction training given to employees
- Accident / Incident Reporting Procedures
- Develop and demonstrate hazard assessment procedures for all activities undertaken on site
Things to consider for your workplace
How do you keep chasing this information when it expires?

How do you verify it has been submitted and how do you quickly find it?

How do you track that everyone has completed these areas and understood it?

Can you update your induction program on demand?

Can you induct suppliers, contractors, employees and visitors?

With your own OnlineInduction.com program you meet all the above criteria
Setting up an Online Induction Program Portal
The best way to acheive everything we've talked about is with an online induction program via a web portal and the induction app. Somethng branded to your organisation, a dedicated induction program link you can issue to your staff and contractors and allow them to register and complete online. They can then go through the induction steps in sequence and complete the induction online before they start working in your organisation.

See how an online induction program can work for your organisation by looking at the online demo via the form above or - Contact Us