Online Induction >> Contractor Safety Management
Contractor Safety Management: Best Tips, Design & Setup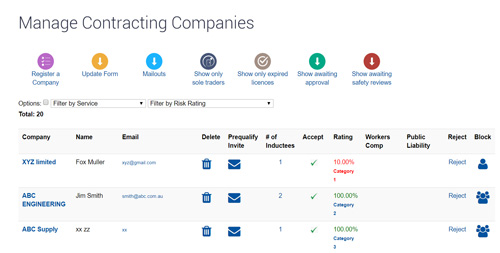 Best practice contractor safety management is divided into several approaches and
checklist
to ensure contractors are engaged and prepared for working safely on site, are empowered with the right processes and procedures to ensure their own safety and the safety of their co-workers, have gone through and conduct the necessary safety checks and processes, have the systems in place to conduct their job task safely and finally, leave the workplace in a safe condition for the next worker. Organisations can use contractor safety management software to properly establish, manage and implement these areas to ensure all their contractors are working safely. With modern technologies, organisations can establish real time monitoring and reporting procedures to have on demand awareness and tracking of their contractors and ensure in real time that safety policies, procedures and
checks
are followed by their contractors across the workplace.
First Safety starts with Engaging Contractors
The way that contractors are first engaged by an organisation is the first opportunity to establish safety awareness and deliver your important safety policies and procedures. Engaging contractors with an induction as the first safety management process allows you to convey important safety topics, procedures and policies to contractors before they even start work on site.
Initial safety engagement might include:

awareness of site hazards

how to report an incident

site specific safety procedures

site specific safety policies

SWMS management

JSA's

Permits to work management

site access

supervision and monitoring

management contacts
Prevent safety issues with a proper contractor induction
More than just a slideshow you click next through, actually ensure that site specific safety issues are properly understood and will be followed by each contractor, subcontractor and worker. The induction is the first step to engaging a worker on site and ensuring they understand everything about the workplace in order to be job ready. A good induction that covers the common safety topics as well as site specific safety will help contractors be prepared and ready for when things go wrong. Staff that work at a site every day might be familiar with evacuation plans and procedures but contractors aren't, this may be their first time on site and the contractor induction may be the only method of being familiar with what to do when things go wrong.
Contractor safety document management
Contractors often have to provide a great depth of safety documents and materials as part of working on site. It can be extremely burdensome to manage great volumes of safety materials and both verify them and ensure they are up to date. A good contractor safety management system will allow contractors to upload all required materials before they arrive on site. This enables them to properly prepare for the requirements expected of them and make sure they have compiled and uploaded the right safety materials. It also allows the site to review and verify these materials as well.
The sorts of things you might collect and verify from contractors:
If your company has a WHS Management System recognised by an independent authority and uploading that certificate
Does your company have a WHS policy and is it regularly reviewed as well as uploading a copy of it
Does your company keep up to date with legislative and regulatory changes and ensure that relevant changes are incorporated into your company procedures and practices
Does your company conduct regular internal audits of its own operations
Does your company have a system for recording and analysing WHS performance statistics and providing evidence of it
Does your company have documented procedures for completion of High Risk Work
Does your company have documented procedures for Storage and handling of hazardous materials including safety data sheets
Does your company have documented procedures for safe manual handling
Does your company have documented procedures for environmental management including disposal of waste
Review, Verify, Approve
A contractor safety management system will typically involve a deep verification, review and approval process across all these areas to ensure that the contractors working on site are adequately prepared for the job. A typical workflow will be that contractors upload the specific materials relating to their job task or activity and based on risk level. High risk construction tasks might involve the contractor providing a much higher degree of materials and evidence of training compared to say a low risk worker who may not be required to provide as extensive a level of contractor materials. Risk roles can often be determined based on the company and the job task or activity being conducted.
Try setting up your own contractor safety management system