Online Induction >> Contractor Verification System
Published 07/10/2021
Contractor Verification System
- Best practice contractor verification software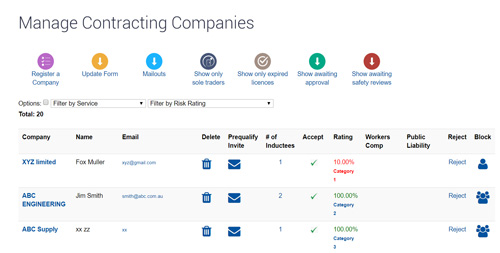 Contractor verification is a major process for the ongoing managing of contractor companies, their contractor staff and subcontractors they engage. It typically involves verification of their compliance, safety history, performance and capability, procedures and policies, important engagement and safety materials they need to provide as part of being engaged to perform work at an organisation or site.
It's more important than ever to ensure you know what's going on with your contractors on site. In many regions you need to demonstrate due diligence as a person conducting business or undertaking (PCBU) with regards to contractors working in your workplace under the law. Even if you have engaged another contracting company to manage contractors in your workplace, a contractor verification system can help you ensure that they are doing the right thing and that all contractors in your workplace are compliant and have been verified.
The Verification Process
Contractors provide a great deal of materials covering many different areas when they are engaged to work in a workplace. Typically these range from insurance cover for the specific type of work or activity they are undertaking through to evidence of training, certifications, licenses for their individual staff and providing copies of their procedures, safety systems in place and policies as well as history of safety incidents and LTIs.
Collecting these materials is done as part of the contractor
prequalification process
and once collected, there are multiple ways to actually verify them. If self verifying as a company, the core review status ranges from approved, pending, providing the material again and rejected. This is best done using
contractor management software
to systemise and easily manage the approvals. An alternative to self review and verification is using either AI technologies for real-time verification or an outsourced review and approval process. A combination of these are also really common as well.
See how the contractor verification system we've created works and how it might enhance your contractor verification process:

What happens when you don't verify contractors
With increasing regulations and constantly increasing and changing workplace risks, when contractors haven't been verified, it can be catastrophic when an incident happens and a contractors details haven't been verified.
Some of the problems and risks might include:

Contractors arrive on site without having a safety check which is a major business and safety risk

Contractors or subcontractors arrive on site without expired licenses or tickets unchecked

Bad safety habits introduced into your workplace because of unknown previous safety history

Increased risk safety incidents

Risk of causing new hazards

Poor performing contractors left unchecked

Contractors working on site that shouldn't be
What does a contractor verification system do

Ensures that all contractors have been checked and are compliant

Helps understand previous safety history and performance of contractors, should you use this contractor?

Provides deep intelligence around contractor activity, safety and compliance

Prevents non compliant contractors from working on site

Tracks where contractors are on site

Ensures all contractor safety materials, training and insurance documents are captured and up to date

Evaluates contractor safety performance

Contractor safety management

Is an ongoing verification tool around all contractors and subcontractors
Example Contractor Verification Items
Commonly the areas verified include:
Insurances, tickets, licenses, safety history, lost time injury history, safety procedures in place, do they induct their own staff?
Try our contractor verification platform
See how the latest innovations and technologies around contractor verification can work for your organisation by looking at the online demo via the form above or: