Online Induction >> Contractor Verification System
Published 21/05/2023
Contractor Verification System
- Best practice contractor verification software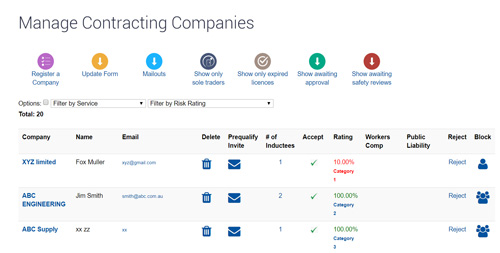 Contractor verification is a major process for the ongoing managing of contractor companies, their contractor staff and subcontractors they engage. It typically involves verification of their compliance, safety history, performance and capability, procedures and policies, important engagement and safety materials they need to provide as part of being engaged to perform work at an organisation or site.
It's more important than ever to ensure you know what's going on with your contractors on site. In many regions you need to demonstrate due diligence as a person conducting business or undertaking (PCBU) with regards to contractors working in your workplace under the law. Even if you have engaged another contracting company to manage contractors in your workplace, a contractor verification system can help you ensure that they are doing the right thing and that all contractors in your workplace are compliant and have been verified.
View Templates and Examples

The Verification Process
Contractors provide a great deal of materials covering many different areas when they are engaged to work in a workplace. Typically these range from insurance cover for the specific type of work or activity they are undertaking through to evidence of training, certifications, licenses for their individual staff and providing copies of their procedures, safety systems in place and policies as well as history of safety incidents and LTIs.
Collecting these materials is done as part of the contractor
prequalification process
and once collected, there are multiple ways to actually verify them. If self verifying as a company, the core review status ranges from approved, pending, providing the material again and rejected. This is best done using
contractor management software
to systemise and easily manage the approvals. An alternative to self review and verification is using either AI technologies for real-time verification or an outsourced review and approval process. A combination of these are also really common as well.
See how the contractor verification system we've created works and how it might enhance your contractor verification process:

Common Contractor Verification Licenses, Credentials and Tickets
Commonly you'll see a verification process around insurances such as workers compensation, public liability and professional indemnity. But also you see it for individual tickets and licenses held by contractors issued by independent training organisations such as:
| | | |
| --- | --- | --- |
| Architect Asbestos Boiler Operation Boilermaker Builder Carpentry Concreting Confined Space Crane Bridge and Gantry Crane Derrick Crane Non-slewing mobile >3t Crane Portal Boom Crane Self-erecting Crane Slewing mobile up to 20t Crane Slewing mobile up to 60t Crane Slewing mobile up to 100t Crane Slewing mobile >100t Crane Tower Crane Vehicle Loading Demolition Dogman DG Drain Layer | Electrical Contractor Electrician - Restricted Electrical Installation Electrical High Voltage Operation Electrical High Voltage Switching Engineer - Chartered Professional Engineer - Associate Excavator Fire Consultant Fire Fighter Fire Technician Fitter and Turner Forklift Forklift - Order picking truck Fumigator Gas Class Glazier | Graffiti Removal Heavy Vehicle Hoist Boom Type Elevating Work Platform Hoist Concrete Placing Booms Hoist Materials Platform HM Hoist Personnel and Materials Insulator IT Landscaper Lock Smith Lift Maintenance Load shifting Painter Pest Controller Plumber Refrigeration and Air Conditioning Rigging Roofing / Guttering Scaffolding Security Consultant Security Installer Site Supervisor Surveyor Welder Working at Heights |
The important checks to verify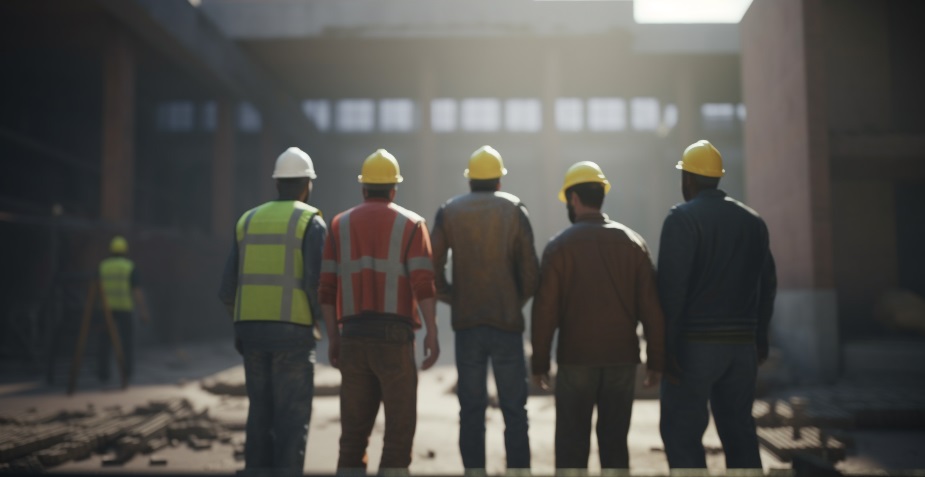 It's not just about collecting and checking the contractor holders the certification or license, it is important to make sure they hold a valid and correct credential. This might include things like the correct level of insurance cover for the type of work or undertaking they are doing. I.e. contractor is insured and holds liability insurance but the level of cover doesn't actually fit the risk level and job task they are doing where they actually require a significantly higher level of insurance cover.
Thing you might verify:
- Expiry date is correct
- Correct level of cover
- License is genuine / fraud prevention
- It is the correct type of document
Using a verification system to do this make life so much easier with automatic and systemised checks, check out our
verification system right here
for examples.
What happens when you don't verify contractors
With increasing regulations and constantly increasing and changing workplace risks, when contractors haven't been verified, it can be catastrophic when an incident happens and a contractors details haven't been verified.
Some of the problems and risks might include:

Contractors arrive on site without having a safety check which is a major business and safety risk

Contractors or subcontractors arrive on site without expired licenses or tickets unchecked

Bad safety habits introduced into your workplace because of unknown previous safety history

Increased risk safety incidents

Risk of causing new hazards

Poor performing contractors left unchecked

Contractors working on site that shouldn't be
What does a contractor verification system do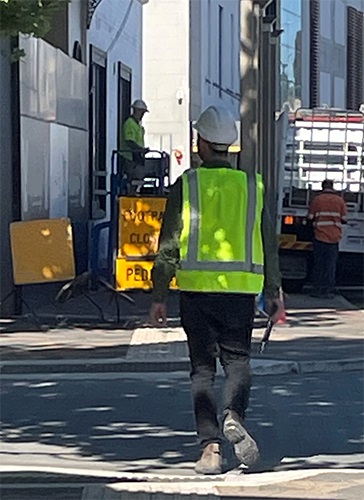 A contractor verification system is designed to verify the legitimacy of businesses, contractors and organizations that you may hire or work with. This can include verifying employee backgrounds, validating job references and ensuring that your chosen contractor's qualifications are up-to-date. This might be part of your wider
supplier onboarding system
and
contractor management system
.
For any business looking to work with contractors, it pays to do your due diligence by doing background checks and confirming all credentials before offering them a job. The traditional way of doing so involves manual process like looking into references from past employers, gathering personal details from paperwork submitted by the applicant and checking for criminal records. However, with the help of a contractor verification system, you can save time and effort since it streamlines all these processes for you. It swiftly scans thousands of verified databases to compile an accurate report on the individual or organization in question.
Having an efficient contractor verification system helps organizations increase their operational efficiency while reducing risks associated with hiring untested personnel or working with unreliable suppliers. With every move tracked and recorded through an automated system, you also have total visibility over what goes on in your business. Moreover, having such systematic processes in place enables compliance with industry regulations when necessary - especially helpful when dealing with highly regulated industries such as finance or healthcare.
In summary, having a reliable contractor verification system in place allows businesses to ensure they're working with qualified professionals who meet their requirements without wasting valuable resources on unnecessary manual verifications. We hope this article has been able to answer some questions about what does a contractor verification system do - if you have any further questions feel free to contact us today!
Here are some common checks you might include:

Ensures that all contractors have been checked and are compliant

Helps understand previous safety history and performance of contractors, should you use this contractor?

Provides deep intelligence around contractor activity, safety and compliance

Prevents non compliant contractors from working on site

Tracks where contractors are on site

Ensures all contractor safety materials, training and insurance documents are captured and up to date

Evaluates contractor safety performance

Contractor safety management

Is an ongoing verification tool around all contractors and subcontractors
Example Contractor Verification Items
Commonly the areas verified include:
Insurances, tickets, licenses, safety history, lost time injury history, safety procedures in place, do they induct their own staff?
Try our contractor verification platform
See how the latest innovations and technologies around contractor verification can work for your organisation by looking at the online demo via the form above or: