Online Induction >> Subcontractor Management Software
Subcontractor Management Software
- Managing Subcontractors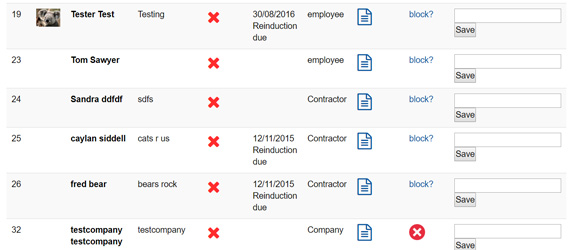 If you manage subcontractors, it's important that they are inducted, are compliant, tracked on site and properly managed especially around their certifications, licenses and insurances.
Presenting the step by step best practice options for subcontractor management and how to keep on top of your subcontractors with tools, apps and subcontractor software setup.
Start by inducting your subcontractors
All subcontractors need to be inducted before they start working on site.
Before each subcontractor is engaged to work on site or begin their job, they need to do a full induction on that specific worksite covering important safety and site hazards as well as ensuring they are properly ensured and approved for working on site.
Every individual subcontractor needs to be compliant, they should also be given the tools to report and be aware of hazards and incidents that occur in the workplace while working in their role. Inductions should be based on risk level. High risk work should be a more comprehensive high risk induction versus low risk subcontractors who might do a smaller low risk induction.
Know who subcontracts to a contractor
You may have an extensive prequalification process for your contractors but not your subcontractors. Who is subcontracting to your contractors?

A contractor may be approved to work on site but what about their subcontractors? using a proper subcontractor management process you can also ensure all subcontractors have gone through an extensive prequalification process and approval process. Know who all the subcontractors are and who they subcontract to.
Subcontractor Org Chart
You can fully map out all subcontractors with a proper subcontractor org chart knowing which subcontractors are contracting to which principle contractors. Fully map all the relationships together.
Subcontractor Performance Management
For long term subcontractor relationships, set up proper review processes to check and review the safety performance of your subcontractors. Should they remain a preferred and approved subcontractor 12 months on?
Track subcontractors on site, checked in and out, where are they now?
Track all subcontractors on site! who is on site right now, for how long, when did they check in and check out? how many sign ins has the subcontractor had today and in the last month?
Using our subcontractor management software you can properly track all subcontractor movements!

Make sure subcontractors are inducted

Map subcontractors to which contractors they contract to

Who are all the subcontractors?

Make sure subcontractors are approved and prequalified, do you want them subcontracting?

Ensure subcontractors are compliant and ensured

Track subcontractor movements on site, check in and check out times, who is available right now

Review subcontractor performance
Want to try out a subcontractor management setup? Get started right here: