Online Induction >> Tips and Tricks for Creating Online Inductions
Tips and Tricks for Creating Online Inductions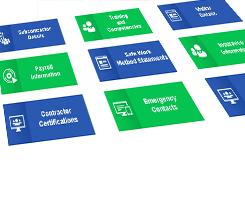 Here we go over the best tools to create unlimited Online Inductions for sites, roles, projects and workplaces. Covering the best tips and tricks for
creating Online Inductions
and how to design and implement online inductions to contractors, employees and visitors.
Running Online Inductions is an important part of the onboarding process for your
contractors, employees and visitors
. It's often their first entry point into your organisation and a critical workplace process to ensuring that important topics, policies and procedures are made aware to staff and that they are being kept up to date and educated in order to work safely in their roles.
Delivering Online Inductions
To start with, as the name suggests, inductions are delivered online. Contractors, employees and visitors can access a link, register and begin their
site induction
before they arrive on site. This might be done from their phone, tablet or computer. From there they can access online training induction courses and modules and progress through check lists, assessments, document libraries and more, entirely online.
Designing and Creating Inductions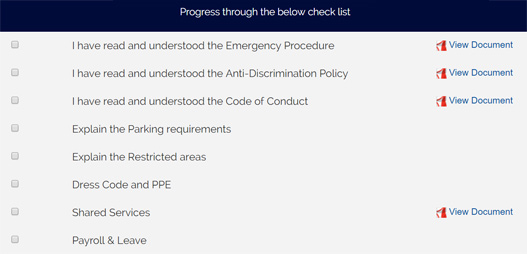 Induction content exists in many different formats, from Powerpoint through to PDF's, third party created courses, videos, SCORM, specially created content or it might not exist at all yet as you still need to create it. To support this, its important to not have to re-invent the wheel and be able to publish your content online as is without having to recreate it again just to suit an online platform. Our online induction creator lets you upload existing content as is and have it converted into an online format or you can create slides and content from scratching using an induction slideshow creator where you can build slides, upload images and even set videos and animation sequences.
Drag and drop slides and content elements in order to build the best of the best inductions. Video backgrounds, truly engaging content and even voice overs really enhance the message you are trying to get across, often for quite involved and complex site content.
Other induction content steps might include forms, check lists and assessments. Using our online induction creator, you can drag and drop form fields to build out any type of online form you need. Common examples include certifications and licenses, insurances, next of kin and emergency information being captured online as part of the induction. Prequalification form fields for companies might include a safety assessment on the companies prior safety history.
Creating interactive check lists and assessments ensures that inductees have access to all the content they need in order to be job ready. Testing their knowledge on the induction content to also ensure they understand it and have learned from the induction.
Who to induct?
Most commonly, organisations induct contractors, employees and visitors who are new and have been engaged by your organisation before they start work. However, it's important to make sure they are re-inducted too! Things change in the workplace and so in order to keep your workforce up to date, re-inductions are typically done annually to ensure all policies, procedures and safety topics are inducted on.
Often you'll also have a different induction for each site. Every workplace has different hazards, different procedures, different access, it's important to ensure if someone is working at a site, they are inducted to work on that specific site.
Ready to create some Online Inductions?
Try creating some online inductions using our builder right here: