Online Induction >> Contractor Prequalification
Contractor Prequalification: Process, Tips, Setup & Prequalification Assessment
What is a contractor prequalification process and why do you need one?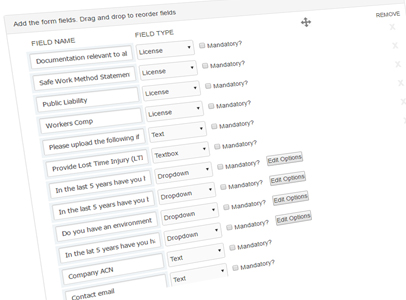 A contractor prequalification process is critical for ensuring all contracting companies have been evaluated and approved for working at your site or project before they send their staff in. It evaluates their safety performance and safety history, verifies their insurances and evidence of training and ultimately helps you determine if you want the contractor to be an approved and preferred contractor on site. Common question categories range from incident and hazard management and performance, safety incident history, does the company have systems and processes in place and insurance levels. A contractor prequalification process typically happens as part of the overall
contractor induction
or
safety induction
and is part of a general
contractor management system
.
Contractor Prequalification & Certification Platform
Using our comprehensive contractor prequalification platform, you can create your own personalised forms or use our ready to go prequalification templates and start registering verifying your contracting companies today.
Create your own contractor prequalification form or use our ready to go templates and ensure all contractor companies have go through a special prequalification before they are approved to work with your organisation.
Prequalify them on their insurance, safety record, quality record, performance of their staff and that they comply with your policies and procedures.
The contractor prequalification process is the first step of engaging a contractor company and your first opportunity to set your standards, expectations and guidelines for them to follow.

Prequalify, Verify, Authenticate

Create your own personalised form using our drag and drop form builder


Collect certifications, insurances and other uploads from the contractor company


Create a survey to ask questions that cover the important check list checks you need


Collect expiry dates on materials with automatic reminders


Induct them on import policies and procedures


Ensure they comply with your safety standards and have a good safety record


Measure their quality record


Measure their performance record

Set up different forms for different industries and different contractor company types.
Certify your contractors as approved and compliant

Insurance detail verification


Safety history survey


Quality history survey


Staff performance evaluation


Payrol details


Collecting contacts


Support details


Service history review


Safety performance review


Best Prequalification Tips
What are some of the most common questions to ask in a contractor prequalification process? We go over below some of the most common and important questions to include in your contractor prequalification process. These can be included in a contractor prequalification form that is sent out to a company representative.

Does your company have a WHS policy and is it regularly reviewed

Does your company keep up to date with legislative and regulatory changes

Does your company conduct regular internal audits

Does your company have a WHS system

Does your company have documented procedures for completion of High Risk Work

Do you and all your employees or subcontractors hold current qualifications competencies and licences relevant to the work

Does your company have procedures to ensure that all hazards and incidents are reported and investigated
See how our contractor prequalification system can work for your organisations needs by looking at the online demo