Online Induction >> COVID19 Induction
Published 30/12/2021
Vaccine Status Tracking Setup Guide for Contractors and Employees
Why does your business need this?
Workplace health and safety laws across the globe require you to ensure the safety of your workers, yourself, and any others in the workplace as much as you reasonably can. This includes minimising the risk of exposure to COVID-19 in the workplace.
Based on latest health advice, there has been a mandatory COVID-19 vaccination policy for many occupations and workplaces. This policy follows existing mandates in place for workers in essential and high-risk industries.
As your industry may require these mandates, you will need to set up a vaccine status tracking system to keep track of who has had the vaccine to allow work to pursue as usual and to notify you and block those who haven't had or provided proof of the mandatory vaccine.
View Templates, COVID19 Workplace Management Tools and Examples

What to include in your Vaccine Status Tracker?
It is up to you what you want to include when setting up your form for the vaccine status tracker. With the creation of an online form for employees and contractors to complete, you will be able to track who has provided proof of their vaccination, including their certificate and date.
It is recommended to also include a list of Covid-19 pre-screening questions before workers commence work or enter your site. By having these questions, this will prompt employees and contractors to answer questions about potential flu like symptoms. If a worker selects an undesirable response, you have the option to block and to receive an alert which will notify you of the response. The online form and list of pre-screening questions can by accessed by workers via a simple QR code, mobile application, and website. As the rules and regulations change, you can make the vaccine status tracker optional or mandatory.
Vaccine Tracking Template
Below is an example of what you may include in your Vaccine Tracking set up: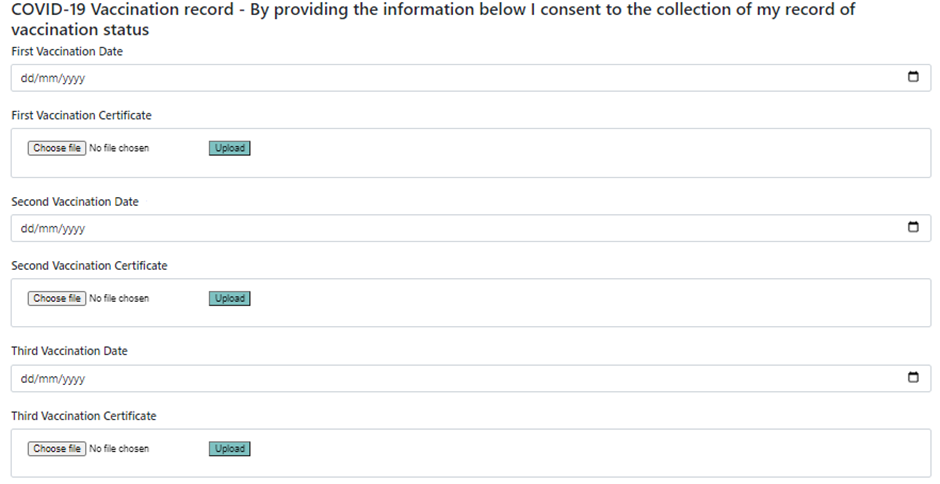 Whether your workplace is returning to work after a lockdown, or you are wanting to continue the performance of work in a safe and legal matter - business and venues must now take reasonable steps to ensure that their workers are fully vaccinated, or those who have a valid medical exemption enter and conduct work on their premises. Depending on your local or national government policies, there may be strict infringements, warnings and fines your business could face if not able to successfully track worker vaccinations.
Get started creating your own Covid19 Vaccine Status Tracking system