Online Induction >> Employee Learning Portal
Published 05/07/2023
Employee Learning Portal: 10 Must Have Features for 2023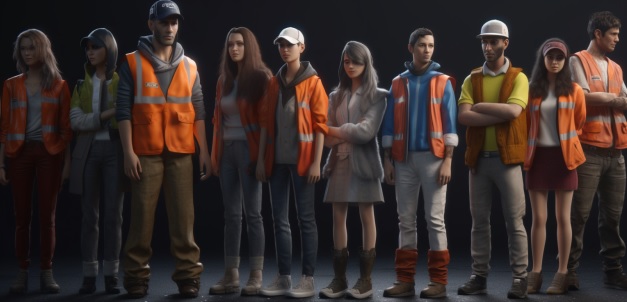 An employee learning portal is a critical tool for organisations to engage and train their employees helping to keep them up to date on important workplace topics, courses and materials. These could range from workplace policies and procedures to be aware of and trained on through to important knowledge building and skills gaps focused courses to help improve employee performance, knowledge, skills and capabilities.
Setting up an employee learning portal is a core way to centralise all important learning courses and training materials for employees across you organisation and also for workplace specific learning materials. It's usually a process that commences after an initial
employee induction
for new starters. But what areas are important especially in 2023 for how you would implement and run an employee learning portal? Here we walk through the top ten most important features for 2023.
Explore our Employee Learning Portal Platform

Automatically Detect Skills Gaps
With a fast paced workforce and constantly changing environment for employees, job roles expanding, new staff coming and employees moving on, there is no doubt a lot of changing going on across workplaces for employees. It's therefor important to detect skills gaps that are going on with employees. What skills do they currently have and what skills can you identify for improvement? A skills gap matrix is a common tool here in the employee learning portal but one feature that stands out as important is a skills gap matrix that self learns. This is where it will analyse and detect skills gaps automatically and highlight where there are opportunities to improve and automatically detect training opportunities.
External Training Matrix
Employees and contractors often have training and certifications from outside your organisation that have been completed with external training providers. Managing external training certifications and evidence of training can be a complex area and its an important feature of an employee learning portal that it have a comprehensive
training matrix
for managing all external training and certifications.
Mobile Learning Portal
This is an obvious one, in today's world is crucial that training can be delivered online and mobile. From iPhone, Tablets to Android phones, quick and easy training courses on mobile enable workplaces to deliver training to their users on the device they use most!
Setup a Supplier Management Portal
With your own supplier management system portal, you can setup and manage your own custom supplier management workflows easily and efficiently. No two organisations are the same and so its critical ensure your supplier management system can suit your organisations specific workflows and requirements.
Performance Diagnostic
Once someone has done a course in your organisation, how do you evaluate how effective that has been on their productivity, work processes and application of knowledge? Has their performance improved? Building in workflows around performance diagnostic and review is important to ensure courses and training are actually having a positive impact on the employee and they are benefiting from the courses they are assigned to complete. Do you need to assign more training or has their performance now improved?
Support multiple course formats
Courses need to be agile, in different formats, support videos, third party created courses, SCORM, slideshows, Powerpoints and many other different online formats. It's important that the learning portal be agile enough to support many different digital formats.
Milestones
Courses are often done in sequence, in groups and based on reaching completion milestones. It's important that the learning portal support courses that are completed in tiers, in stages or a sequence. One course might be required to be completed first before additional courses can be unlocked and attempted.
Assessments
The ability to support multiple styles of assessments is also important. Picture questions and answers make it more interactive, multiple choice with minimum pass marks make it more streamlined. With written answers and questions its a more slow process as someone has to read the answers and review the work each time. Questionnaires help ensure the employee has read and understood the content and are competent. Engaging questions and answers help ensure employees learn from their mistakes.
Notifications
Notifications need to go to different managers, groups, departments, and heads for a range of different reasons. The flexibility to have person responsible notifications versus other custom notification workflows can help bring about big impact and change across an organisations learning and training culture.
Learning Course Reminders
When courses are due for renewal, it's important that the learning portal issue reminders automatically to employees when courses are due for renewal. Refresher courses are a fantastic way to make sure that the workforce is kept up to date on important workplace training. From anti discrimination, infection control courses through to bullying and harassment in the workplace and
compliance training
refresher courses which might be done annually. The workplace changes across the year and its important that employees are retrained too.
Try setting up your learning process using our Employee Learning Portal