Online Induction >> WHS Prequalification
Published 22/09/2022
WHS Pre-Qualification
- What to include and why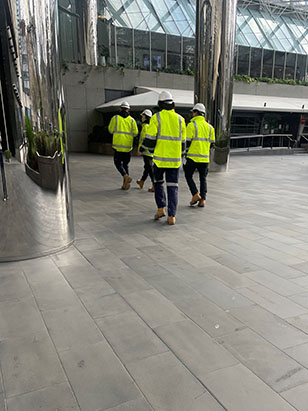 It is equally important to perform a background check on the contractor you want to hire. Pre-qualification evaluates the contractor's ability to conform to the employer's terms. A contractor's suitability depends on the level of experience in that field, the likelihood of the contractor fitting in the health and safety standards, and how they can uphold the working standard within your team. So, a contractor is suitable if they achieve workplace health and safety pre-qualification by demonstrating a health and safety management program.
Before staff of the contracting company is sent to work, the contractor has to be evaluated and approved. Background checks can include searches like;
- Financial background
- Right-to-work checks
- License status
- Permission to work within that locality
- Perspective staff
- Criminal record checks
- Experience of operation
- Correction checks
- Factors to consider in WHS pre-qualification
- Safety and statistics procedures
Before deciding which contractor to hire, determine their experience modification rating (EMR). EMR evaluates the past accident rate and the likelihood of future risks. The lower the rate, the higher chances the contractor will be hired.
Looking to be prequalified?

What to commonly include in a WHS Pre-Qualification
A prequalification process is where an analysis of the WHS risk and safety historical and current performance of the contractor is evaluated and measured. This might cover a wide range of areas such as:
- Does your company conduct regular internal audits of its own operations
- Does your company have a system for recording and analysing WHS performance statistics
- Does your company have documented procedures for completion of High Risk Work
- Does your company have documented procedures for Storage and handling of hazardous materials inc safety data sheets
- Does your company have documented procedures for safe manual handling
- Does your company have documented procedures for environmental management including disposal of waste
- Do you have an environmental management policy
- In the last 5 years have you been convited of an WHS breach or been issued with a breach notice by an OHS regulator
- In the last 5 years have you had a workplace fatality
- Hazard Reporting and Incident Management
- Training and Competencies
- Plant and Equipment
Depending on the organisations requirements, this might expand further out into:
- Signed declarations
In some regions contractors might be required to submit a signed declaration to testify that they have adhered to health and safety protocols. This might be a requirement for every contractor since the employer must ensure that employees will be safe and the contractor employees will uphold high work standards.
- Training and safety experience
Another area might be that the contractor has to prove the level of experience in his workforce concerning health and safety issues. The workforce has to be trained in handling emergencies, administering first aid, evacuation measures, and risk minimization. It is a requirement for every contractor to train and ensure its workforce has the right experience before bidding on contracts.
The employer uses the prequalification to ensure that contractor employees are compliant and have the systems and procedures in place to ensure they work in a safely and that the contractor complies with the health and safety standards set by the employer.
Contractor risk and safety management
Contractors compliment the employer's internal workforce, and ensuring their health and safety is a priority. Thus, contractors who observe health and safety protocols are often critical for the company's workplace safety performance. The only way to avoid occupational safety risks is by ensuring safety practices rhyme for both parties. Mobile technology helps evaluate contractors' health and safety performance. ansuitability of contractors, manual processes can still be used. Questionnaires can be designed and presented to the contractor's employees to testify if the health and safety documents presented by the contractor.
Also, the employer's workforce can be served with questionnaires to testify what they think about the contractor because employees meet with their friends and share more about their bosses. The employer can also conduct surveys from other companies the contractor has worked with and state regulatory bodies.
Pre-qualification vetting prolongs the hiring process, but the employer hires the best contractor. Minding the health and safety of your employees is a priority, and work health safety pre-qualification should not be underrated. It eliminates unqualified contractors who do not meet health and safety requirements. Pre-qualification consumes the employer's time, but the reward is worth the time. The employer saves money that could be spent on compensation coverage and maintenance of machines. Also, the company's reputation is preserved when accidents are minimized.
Prequalify on all aspects of WHS
Fully vet and analyse contractors, sole traders and suppliers on their WHS compliance history, certifications, WHS systems and procedures they have established and setup across their organisation. Establish a risk and WHS performance rating on each contractor analysing their systems and WHS history in order to prequalify them as a preferred and approved contractor and verify that they have a good WHS track record. The prequalification process shows that you have performed a due diligence on the contractor and their WHS history.
WHS Prequalification Setup
Try setting up your WHS Prequalification using our online program: