Online Induction >> Employee Onboarding Software
Published 13/04/2023
Employee Onboarding: Guide and Setup for New Hire Onboarding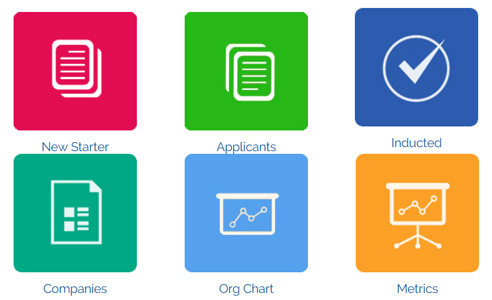 With an
employee onboarding app
you can drive employee engagement easily and consistently from the most common platform your new employee use, their smartphone! Onboard them through check lists, important new starter documentation, employee orientation, test their knowledge with assessments and issue an onboarding pass.
Transform your onboarding process into an online one and an app store one with a dedicated branded onboarding system where you can easily train and assess your new hires on important safety, organisational material and any other organisational learning courses you need them to do. Commonly includes an
Onboarding Program
,
Onboarding checklist
,
plan
and a
Employee Onboarding Playbook
as part of your
HR Onboarding
strategy. This applies to all business types from
Small Business Onboarding
through to medium and large organisations.
View Onboarding Templates, Forms and Examples

What is Employee Onboarding and Why is it Important?
Recruits need to be introduced to the company and are required to catch up with the company processes within the shortest period. The management demands the recruits' efficiency and effectiveness to increase from the onboarding time gradually. Well, how do new employees connect with the processes and other employees?
It is through the utilization of employee onboarding software. This is software designed to offer an engaging experience for recruits to integrate with the working environment when offered the opportunity. The software helps in streamlining training and offering real-time communication.
Benefits of Employee Onboarding Software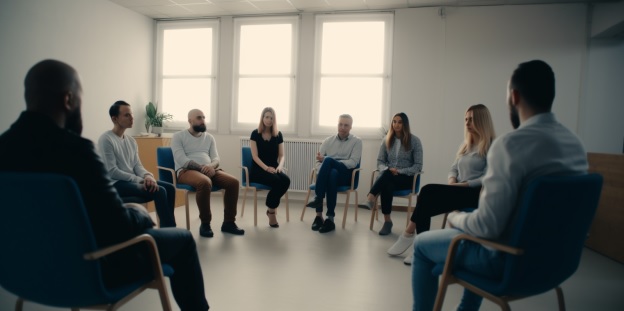 One of the biggest challenges in managing a human resources team is ensuring that new employees are adequately trained and informed. The rapid growth of remote work due to COVID-19 has made it even more difficult to onboard and orient staff members, making it nearly impossible with traditional methods such as classroom instruction or manual paperwork. Employee onboarding software can provide an effective way to manage this complex process and ensure that your new hires have all the information they need to get up to speed quickly.
Employee onboarding software has benefits for employees and employers. The organization benefits from the implementation of technology in many ways. The benefits realized by the implementation of the software include;
- Streamlining training
The software is installed on mobile devices so that every employee has access to real-time updates from the management and training team. Employees receive the training any time they need it by requesting relevant information.
- The streamlined flow of communication
Employee onboarding software eliminates long communication channels by delivering messages instantly. When HR needs to pass crucial information regarding training, they post it in the software, and employees receive it through notifications.
- Source of motivation
Employees receive information via the software, and it becomes easy to integrate it while working. When processes are not clear, they request clarification, and instantly a solution is offered. Employees remain motivated by working with fewer errors and increased effectiveness.
- Saves time
Virtual training is efficient and saves the organization time. Trainers are not required to travel to the organization and receive training; instead, they are trained from their comfort areas. The time used by trainers to arrange physical training is utilized in other activities.
- Monitoring tool
Employees become bored when trained physically, and the employer cannot measure the progress or know areas that need clarification. The software allows employees to create user portals that record progress.
View some onboarding resources and examples
New Hire Checklist
Contractor Onboarding
Onboarding Playbook
Onboarding Toolkit
Employee onboarding software enables employers to streamline their HR processes while also improving engagement between managers and employees throughout the duration of the training period and beyond. It provides a central hub for storing important employee data, creating detailed reports on performance tracking, determining appropriate job roles and tasks, accepting digital signatures from forms, automating document creation and approval processes, storing online assessments for skills evaluation - just about any issue related to employee recruitment!
Setup Guide: Define the goals of Employee Onboarding
Beginning a new role is not an easy task and needs comprehensive preparation. The goals of an employee onboarding software provide seamless benefits to the recruits' new role. These goals include;
1. Impression - The first impression matters when onboarding recruits. The organization should prepare adequately to receive the recruits on the first day. The first day in the organization remains memories to the employees and having a warm welcome session is mandatory.
2. Introduction - New hires need to be introduced to the business and key elements. They need to know the branches, the products, the interests of the customers, and the business's long-term plans. Every piece of information regarding the business should be availed in the software.
3. Integration - Realizing your potential and the role you play towards accomplishing the mission and vision of the business is a goal of the software. Integration is a goal that occurs during the specialization of roles which is when recruits discover their potential and how their efforts add to the organization's bottom line.
4. Immersion - Immersion is a goal that occurs during the role training phase to build the employees' knowledge of functions, skills, and processes. Immersion plays a critical role in integrating the recruits into the company culture.
5. Independence - It is the meta goal of onboarding. The employee is integrated into the company and is aware of all processes. They can work independently to realize their full potential after transitioning from learners to experts.
Employee onboarding software has impacts on the business and employer at different levels. Since the software operates electronically, it keeps all stakeholders informed about recruits' progress.
Some of the areas used to measure the impact of the software on the organization are production, communication, and contact with other employees. It encourages a smooth flow of activities as employees are informed on every step they ought to undertake.
The rate at which new hires socialize with existing employees measures how effective the software is and how the organization will benefit from the software. The system offers virtual assistance to the recruits, which accelerates the flow of activities. The software impacts the organization in that it reduces the number of HR workforce required to tackle the hiring process.
Technology is evolving rapidly, and every sector is benefiting from it. Onboarding realizes the benefits of implementing a virtual onboarding program to facilitate activities and reach maximum productivity. It is up to every organization to have robust employee onboarding software.
What makes a good Onboarding System Setup Structure for New Hires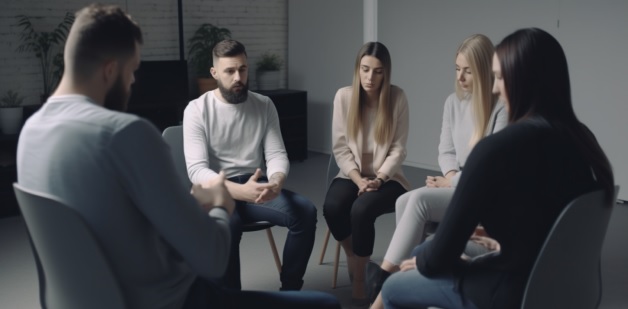 The last decade has seen a huge shift in the way companies view employee onboarding. As technology continues to progress, more and more businesses are beginning to recognize its importance for welcoming new hires into their organization and making them feel like part of the team from day one. So what makes a good onboarding system for new hires in 2023?
As always, finding the balance between high-tech advancements that provide an efficient introduction experience and low-tech personal touches that create an emotional connection is key. This means providing digital tools that make it easier to access essential documents, automated messages that welcome employees quickly via text or email and simple video introductions from current team members offer real value with minimal resources required. Long gone are the days when HR departments had to manually guide each individual through months' worth of tedious processes - now everything can be handled digitally within minutes!
Another important challenge when designing an effective user onboarding process is helping employees understand company culture as soon as possible. This means delivering targeted, personalized messaging relevant to different roles right away so they don't get overwhelmed by lots of irrelevant information at once. This might include tutorials focusing on job specific tasks; team building activities such as virtual icebreakers or webinars; fun facts about the office environment; or social media accounts where newcomers can learn more about their colleagues outside of workhours . . All of these are perfect ways to help any new hire settle into their role both quickly and smoothly - something which all organizations should prioritize if gains successively over time ...
Finally, customer service needs should also not be overlooked when creating a good onboarding system for new hires in 2023! Having easily accessible communication channels available right away will ensure that no problems go unresolved during those crucial first few weeks while problem solving abilities can be transferred so staff frequently across teams receive tailored training depending on existing skill sets
Employee Onboarding App Setup
Set Up New Employee Onboarding Online and on the App store!
Collect important information online from new hires, present your organisation courses, check lists, assessments, videos and much more all online and mobile devices via your
Onboarding Platform
.

Create New Hire courses


Specifc for mobile devices


Create custom onboarding courses


Create online interactive assessments


Capture training materials


Collect HR information online


Create site specific courses


Create job role specific courses


Choose from our library of templates


Create check lists and document libraries

Have a look at our employee onboarding templates and massive library of onboarding check lists, content, presentations and other onboarding material:



Why is onboarding important?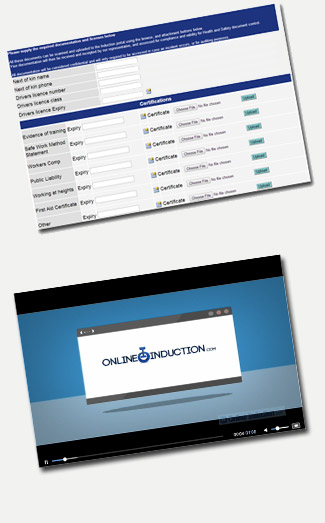 A lot of information needs to be communicated to new hires and its easy for this to be skipped, lost, not understood and not consistently done. Important policies, safety information, competency checks, compliance checks and gathering required details from new hires are all typically done in a time consuming manual fashion or even not at all!
How much time does it really save to do it online?
Think about how much time is spent sending new starter paperwork to a new employee, receiving it back to process, talking them through the workplace, getting them to understand both the culture and their role, the organisation and most important of all, ensuring they understand important policies and have signed off that they acknowledge them in the event something goes wrong? That entire process can be completely automated and you maintain a digital record of every part of it.
Online before they start the job
It makes sense to drive these introduction processes online and before the new hire starts their role. You'll have faith they are doing a consistent onboarding process and the ability to track, report and manage all the users and materials.
Automatically Convert Existing Powerpoint, Videos, Word Documents and more into an Online Onboarding Program
We support all document formats, its never been easier to upload your existing content and see it transform into an online format where everyone can progress through it no matter where they are.
We can provide you with a library of existing onboarding material for you to customise and edit for your purposes.

Automatic reminders for refresher onboarding updates and track that users have read import emails.

Test the knowledge of inductees with an online assessment for each course.

Add check lists for different induction types.

Add voice overs to your content.
OnlineInduction.com - The home page on the Internet for all things onboarding related.
Onboarding App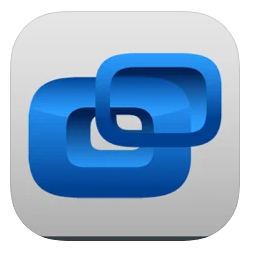 With an onboarding app you can ensure your new starters and employees experience their onboarding journey through a mobile responsive and engaging experience directly to their phone before they start their new role. Wow your new employees with personalised virtual onboarding experiences and create custom role or site based new starter onboarding journeys on mobile via the onboarding app.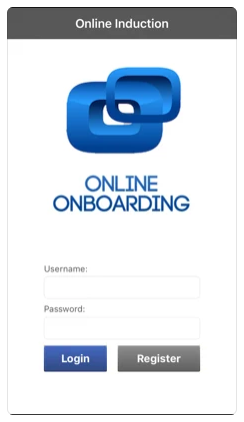 Try creating your employee onboarding process on an app
Try out our onboarding iPhone app!
Try creating your own onboarding process delivered via an app for smartphones or tablets: