Online Induction >> Onboarding Program
Published 09/09/2023
Onboarding Program Guide for Effective Employee and Contractor Onboarding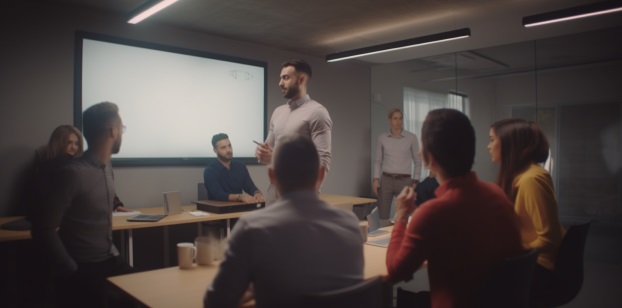 An
onboarding program
is the first introduction for
new employees
or
contractors
on the job they are about to undertake. It's something they go through online before they begin their role to ensure they understand safety, policies and procedures, have provided necessary evidence of training, payroll information, have been setup in the organisation, understand the organisation, requirements expected of them and how to manage and report incidents, hazards and work safely on site.
A best practice onboarding program will create the best of the best onboarding experiences as a first introduction to your workplace, creating a memorable and lasting impression on your new employee or even contractors coming to site. It will encompass everything they need to know before they step through the door on the first day, from important safety topics through to HR and even infection control, presscreening, policies and procedures, onboarding them into everything to make sure they are job ready!
"Establishing the best onboarding program can make or break the entire new starter journey. Think about all the areas covered in an onboarding program from culture, HR policies and procedures to follow, being job ready around forms, check lists, assessments and content around the organisations history, structure, safety, framework, customers and personal connections around meeting your team and manager through to what is going to happen next and what to expect during your probation period. The Onboarding program journey is the first engagement with a new staff member and so its important organisations get this part right"
Dr Jeremy Nunn.
View Onboarding Templates, Forms and Examples

What to include in an Onboarding Program
Every organisation is different and so is every onboarding process. We've divided up some of the common elements and phases for an onboarding workflow. From checklists to document libraries, assessments to online licenses, an onboarding program should cover an indepth overview across all these areas.
Set Up A New Employee or Contractor Onboarding Program
A guide to contractor onboarding
The Process
Offboarding Checklist
Tips for Building an Onboarding Program
Supplier Onboarding
Onboarding new employees and what to include
Employee Journey Mapping
for post day one onboarding
Easily set up a dedicated fully branded onboarding portal where you can easily train, onboard and assess
employees
, new starters and
contractors
on important safety, organisational material and any courses you need them to do.

Create a Contractor Orientation


Create new employee courses


Create custom onboarding courses


Create assessments


Capture Contractor licenses


Collect HR information or create your own data capture fields


Create site specific courses


Create user specific courses


Choose from our library of templates


Can be done via the app store to
Discover our onboarding program





With staff training and skills analysis a constant growing and in demand area, its also important to make sure your onboarding program includes workplace training refresher topics. From bullying and harassment and code of conduct through to anti discrimination, infection control in the workplace and even how to use a fire extinguisher. The onboarding program is often a first por of call for introducing these areas to your new staff member or contractor and to properly onboard them on these important workplace topics.
Onboarding Workflows
One of the big things about onboarding is that it doesn't just stop on day one. With onboarding workflows you might have additional onboarding experiences that trigger across the days and months ahead, creating a longer lasting onboarding life cycle and employee journey. 7 days after their initial day 1 onboarding, you might trigger a follow up to make sure they know how to report an incident if they see something unsafe or how to report a hazard they encounter in the workplace. Perhaps its a line manager follow up in 30 days or even a performance review. Onboarding workflows could be a combination of did you know's, how to to's, reminders, prompts and alerts based around safety and HR for working in the workplace.

Using an Onboarding Program for Probation Period
One of the strongest impacts from a solid and effective onboarding program is to help evolve a new starter from amateur to competent and then expert by the time they have concluded their probation period. The onboarding program can help guide and train the new start, prompting one on one meetings with mentors and role model based staff to help upskill your new staff member combined with assigning them training based on skills gaps and training gaps identified by their
skills matrix
. The probation period becomes more about evaluating how effective the new staff member actioned and adopted all the elements from the onboarding program and measuring the success of those actions. Was the new staff member onboarded over their probation period successfully moving them from being an amateur in their role to someone who is just competent or an expert?
The importance of an effective Onboarding Program
Despite their competency, new employees need to be introduced to their duties, working environment, team members, and all departments within the organization that they will interact with. Effective employees' onboarding helps them adapt to their roles and smooth transition of duties leading to a positive shift of organizational goals. Well, what is an onboarding program?
An onboarding program is a process for integrating new employees into the organization, introducing them to the culture, work ethics, delegating duties, introducing them to their workstations and supervisors, handover tools, and instructions for performing tasks. It is a systematic process for transforming candidates into high-performing employees.
Steps to an effective Onboarding Program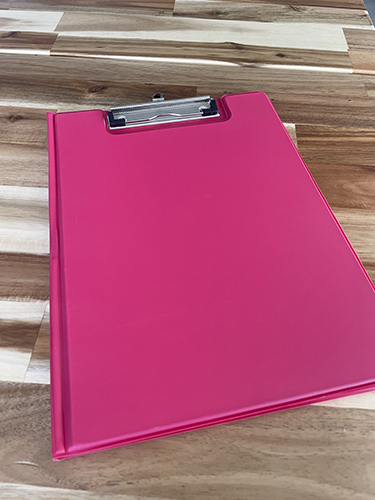 An effective onboarding program for organisations in 2023 should be comprehensive, efficient, and interactive. It should begin with an initial welcome session that introduces new hires to the organisation's mission, values, and culture. This should be followed by a detailed orientation that explains the organisation's policies and procedures, and introduces the new hire to their team and colleagues. The onboarding program should also include an induction to the organisation's technology and systems. This might include training on the organisation's software, learning management system, and cloud-based tools. The new hire should also be provided with access to the organisation's intranet, knowledge base, and other resources.
An effective onboarding program should also provide resources and support for the new hire. This might include mentorship programs, career development opportunities, and other ways for the new hire to connect with their team. The organisation should also provide access to counselling services, should the new hire need additional assistance. It should foster a sense of community within the organisation. This might include team-building activities, social events, and team projects. This will help the new hire feel connected to their team and better understand the organisation's culture.
Here are some common steps you might include:
1: Inform management and colleagues to expect new hires
The recruitment team sends regular reminders to all employees and stakeholders to expect recruits anytime. The reminder sets their minds and helps them also prepare to welcome them. Prior to the onboarding day, the recruitment team sends circulars to all departments to alert employees that they should be in official attire and acceptably conduct themselves since they should be role models.
2: Prepare the recruits' workstations in advance.
The first impression of the new hires' workstation determines the attitude towards the company. Remember, the first day is more important than other days because it sticks to their minds. So negative impression means a negative attitude and vice versa.
The workstations should be renovated and broken infrastructure replaced, malfunctioning equipment also should be replaced. The environment should be friendly and offer the comfort of the highest degree.
3: Install necessary programs
In organizations where resources are shared like printers, passcodes should be provided to the respective workstations prior to the onboarding day. Also, where computers are used, necessary applications should be installed and tested.
4: Introduction on the first day
The first day of the organization marks the start of the onboarding process. New hires are introduced to the management and colleagues at an informal meeting. The management organizes a welcome breakfast which is shared among colleagues.
During the meeting, key personalities introduce their identity. In this meeting, the recruits get an overview of what to expect and from who, and the management retrieves essential information regarding the interview process.
5: Training
Recruits find it too hard to cope with new work environments, and thus the training is critical. At the acquisition time, they only have the theory of what should be done and the expected results, but the practical knowledge is absent. In this training, they learn how to operate machines, use applications, communication channels, and access and submit workload. The training plan should cover; processes, procedures, rules and regulations, expectations, and results. Also, the management can assign each recruit a mentor to help them acclimate to their roles.
6: Follow up
Following up on the progress is the critical step and the most overlooked by many employers. They assume all will be well with recruits but not obvious. Even if the progress is good, there is a need for an evaluation to identify weaknesses in the program. The employer learns about the onboarding program through evaluation.
7: Feedback
After follow-up, the information should be available to the top management to analyze and rectify less performing steps. After the rectification, employees are notified of changes that need to be implemented.
Try creating an online onboarding program

Employee onboarding program best practices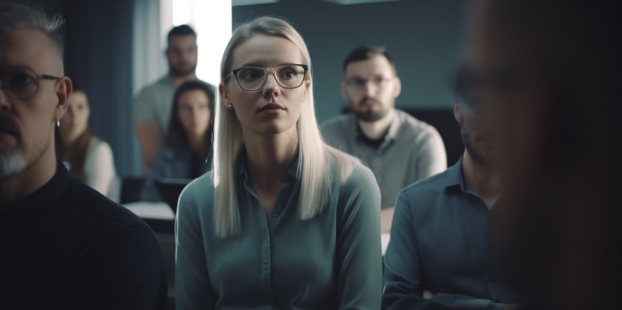 At its core, an effective onboarding program should be designed to provide a great experience for both new employees as well as existing staff. Here we'll look at how you can ensure that your employee onboarding program meets this goal.
First off, make sure you're clear on what the purpose of the onboarding process is and why it matters - this allows for everyone involved in the process to understand exactly how it works, what needs to be done in order for success, and why it's important. Having expectations set from day one helps create a roadmap that will guide everybody through a smoother transition while preventing any misunderstandings or conflicts down the line. Next, give each new hire an individualized induction package outlining job expectations and company policies; this helps reduce confusion right from get go by making sure everyone understands their roles within their teams before they even start working together.
- Set a friendly tone
Two or three days prior to the material day, send a welcome email inform of a reminder welcoming the new hires. They will feel highly valued and become more willing to join the company. Show the interest in having them in the company and how essential their services are to the company.
- Virtual meetings
Introducing the recruits to the work environment and workmates on a virtual meeting helps reduce tension and anxiety on the first day. They know whom to meet and what to expect from them.
- Send directions prior to the first day.
Be wise enough to pin the company's location and share directions on the parking, nearby hotels, and administration offices to the recruits. The information helps when seeking assistance and comfort.
- Prepare adequately for the first day.
The first day must be preserved primarily for onboarding. Employees should not be too busy to shock the new hires but be flexible to assist when needed. Everything necessary for the event should be set, and welcoming moods must be present.
- Pair each recruit with a buddy
A buddy is a caretaker employee who takes care of a recruit. He is responsible for showing the recruit how processes are done. They help in acclimating new hires faster.
No one likes challenges when tackling a process, and onboarding introduces new hires to the company. As employees benefit from the process, the employer benefits more because the production rate improves quickly.
Best Onboarding Journeys and Workflows to include in your Onboard Program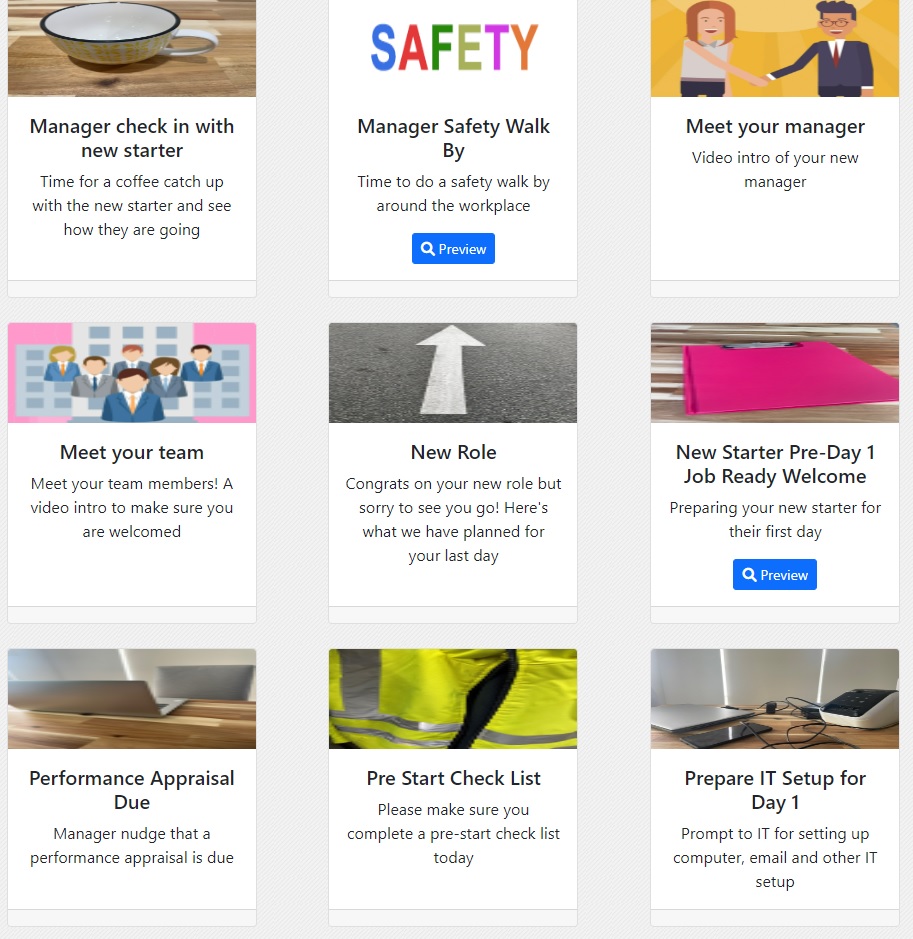 Creating an Onboarding Program: Customised to your requirments and work flow
Create your own onboardnig courses, assessments and online forms or use our ready to go onboarding materials from our massive library of content, forms and downloads. Publish onboarding videos, check lists, assessments, presentations and slideshows. Ensure all contractors, employees and volunteers or visitors go through a comprhenesive onboarding process online.

We have a whole library of onboarding courses, assessments, forms and materials for you to start with. We offer a global industry leading onboarding training and compliance management center that you can include within your organisation. Automatically Convert Existing Powerpoint, Videos, Word Documents and more into an Online Onboarding Program We support all document formats or we can provide you with a library of existing onboarding material for you to customise and edit for your purposes.

Upload your existing onboarding material to create your own onboarding courses.

Test the knowledge of inductees with an online assessment for each course.

Add check lists for different induction types.

Automatic reminders for refresher onboarding updates.

Add sound, text images, video and more to your induction training courses.
Try creating an Online Onboarding Program