Online Induction >> Employee Handbook
Published 19/09/2021
New Employee Handbook
- Creating the Best Employee Handbook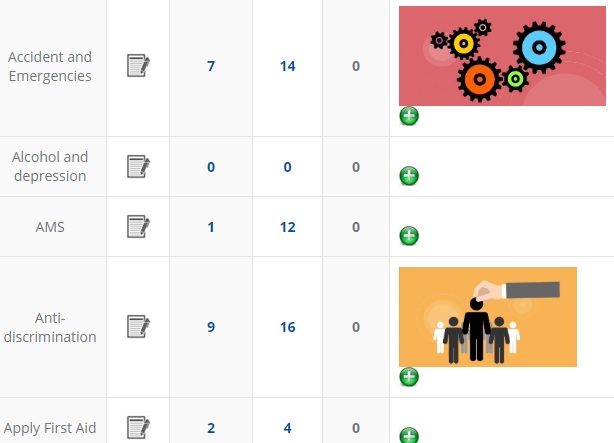 An employee handbook, also referred to as the staff manual, is an employee focused document that every employee in an organisation should receive, most often on their first day of work or in the period between accepting a job offer and starting their first day. A new employee handbook is part of your overall
employee induction
process and may integrate a
staff induction
, an
induction pack
and an
induction checklist
.
Here we go through the ins and outs of the employee handbook, what is it, its importance in the workplace, common contents to include in an employee handbook and the best way it should be delivered to your employees.
What is an employee handbook?
The employee handbook outlines the policies, procedures and other materials for being job ready by an employer for their new employee. The aim is to familiarise the new employee with their workplace obligations, rights and responsibilities while working in the organization such as code of conduct through to leave policies and complaints process.
What to include in an employee handbook
Employee handbooks should cover all the things a new employee needs to know before they start their job role. Every organisation has different goals, values, workplace specific policies and procedures and so the employee handbook should be unique and reflect the organisation's characteristics and processes.
Commonly in the employee handbook you'll see:
- Employment Basics This area helps ensure the employee understands the job classification and the terms of the contract. It includes employment contract types, attendance, selection, and the recruitment process.
- Code of conduct covers employee behavior in the workplace and representing the company. From ethics, and trust through to dress code, employee relations, conflict of interest and employment of relatives.
- Workplace Policies Policies set conditions for employees to work in and describe important workplace practices, procedures and guidelines. Workplace policies include harassment and bullying, confidentiality, data protection, customer relations and health and safety.
- Benefits and perks this is about ensuring employees are well informed on all the benefits and allowances such as compensation, work from home, employee expenses, and fitness and wellness allowances.
- Working hours, vacation / holidays and time in lieu; describing out of work responsibilities and guidelines, any specific policies on holidays, extra out of work hours, sick leave, parental leave, jury duty and bereavement leaves.
- Employee resignation and termination Covering disciplinary issues, resignation, termination, providing references post employment and probation periods.
Try creating an online employee handbook right here or view some of our templates:

Why you need an employee handbook
The employee handbook is a central communication resource for new employees. It provides guidance and outlines important information related to the organisation's values, history, procedures, benefits, and policies to ensure the new employee acknowledges and is aware of these critical areas as part of joining the organization.
It also serves as an employee protection instrument by documenting processes and practices around unfair treatment and discrimination claims. Employee handbooks are easily accessible guides to the organisation's policies and procedures, as well as an overview of the management expectations.
Because of the critical materials in an employee handbook, designing the best handbook and creating a truly engaging experience for these often mundane materials will be the difference between an employee not reading these materials at all versus an experience that excites and empowers your employees for their first day on the job. Creating a great handbook experience can help reinforce the values and culture of the organisation. This type of handbook experience provides clear and contextual directions so that an employee knows where to turn to the event of a problem.
When would you use an employee handbook?
Employers have a legal responsibility of informing their employees on their rights and responsibilities, making sure they understand and acknowledge important HR and safety policies and procedures that could even prevent a series incident from occurring in the workplace. It forms a part of your induction for new employees into an organisation and it's also important when the existing employees need a reference document at any given time to clarify or keep their knowledge of the workplace procedures and policies up to date.
The modern way to deliver an employee handbook
An employee handbook is an integral part of the employee onboarding and induction process which acts as a major element and first engagement point for staff retention.
In the past, it might have been printed out as a physical paper based booklet and given to the employee on their first day. But let's face it, it's going to be something they "maybe" flick through and then there's the trees, unnecessarily printing all those booklets at the expense of our environment. The modern way is an online handbook as part of your induction.
Creating an online employee handbook is a much easier and faster way to distribute it to new employees and create far more engaging and memorable onboarding experiences.
The employee handbook is one of the most important documents of any organisation. It should not be a mere list of the organisational policies but a well written engaging and interactive onboarding experience that sets out the tone of your organisational culture, values, mission and important policies and procedures around workplace behaviour and expectations.
Setup an Employee Hanbook
See how an online new employee handbook can work for your organisation by looking at the online demo via the form above or try out a demo employee induction