Online Induction >> Volunteer Induction
Published 18/04/2023
Volunteer Induction
- Guide for Volunteer Inductions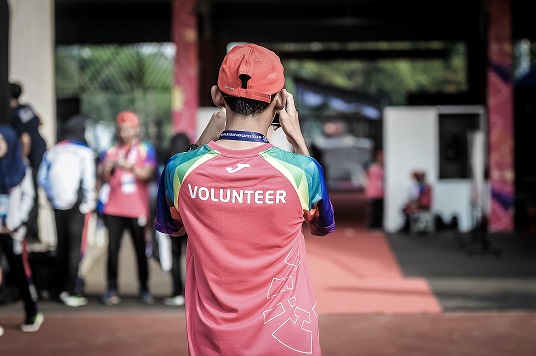 A volunteer induction helps ensure that any volunteers who are working in your workplace are properly inducted on important safety, HR, policies, procedures and other critical job ready topics to ensure they are properly prepared for their job role or activity and that they are aware of these areas to work safely in their job role.
Volunteer inductions are best done before the volunteer starts their job activity and in todays world, they are best delivered online so that they can be completed remotely and before they arrive on site. A volunteer induction may be referred to as a
Volunteer Orientation
in regions such as the US and Canada.
If you are thinking of starting a volunteer program at your business or organization, this article will help you understand the key elements of successful volunteer induction. A comprehensive induction plan helps ensure that volunteers understand the roles they are taking on and the expectations that come with it, as well as promotes trust between volunteers and staff.
It is important to have an effective volunteer induction process in place to ensure that everyone involved fully understands their expectations, obligations, and goals. The right system enables greater involvement of volunteers who feel comfortable in their roles and can be successful contributors to your organization. Having a clear team structure creates an environment where individuals know their job responsibilities, which also encourages active engagement with the project.
As companies continue to become more globalized and virtual teams are becoming commonplace in many organizations, having an efficient onboarding process for new volunteers has become even more vital. An Induction Program provides instructions on various aspects of volunteering such as project tasks, resources required, communication protocols and other relevant information for successful completion of projects assigned to them. It will also offer support when questions arise or difficulties occur during their journey in performing the tasks assigned. This might be part of your overall
Volunteer Training
strategy and include a
volunteer onboarding
process.
View Templates, Forms and Examples

Common areas in a Volunteer Induction
Volunteering programs play a crucial role in bridging gaps within communities as well as encouraging collaboration between different groups. A well-thought-out volunteer induction system provides an excellent platform for getting out into the community while providing volunteers with everything they need to succeed, no matter what kind of project they're working on! Thanks for taking the time to read this topic today - we hope it's been helpful!
Regardless of the type of volunteer organisation, the goals are often the same for what volunteers need to progress through in their induction.
- HR requirements such as collecting the next of kin / emergency contact information for volunteers in the event of an emergency on site
- Collecting job ready documentation that volunteers need to provide you as part of their engagement into your organisation
- Progressing through important
safety induction
content to ensure volunteers know how to work safely on site and are aware of safety policies and procedures
- Site access: how do volunteers access the workplace, are there specific site access requirements?
- Medical and illness history: prescreening volunteers about any conditions or illness history that could affect their role or the health of anyone else in the workplace
- Inducting volunteers on risks and hazards that are present in the workplace
- Check lists on important policies and procedures to acknowledge online
- Evacuation procedures
- Site specific induction content as part of a
site induction
- Assessments to make sure they understand all important topics
Delivering a Volunteer Induction Online
When you deliver a volunteer induction online, you can broadcast it out to all volunteers, current and future quickly and easily via an online induction link. All the volunteers have to do is register and progress through the induction. Using the
Induction app
, volunteers could also complete the induction on their tablet or phone as well. This is perfect for volunteers who are remote and on the go in the field that need quick and fast access to content, materials and inductions.
Registry of volunteers inducted
A critical piece is of course being able to produce a registry of everyone who has completed a volunteer induction. What induction did they do, for which sites, when, how long is it valid for and are they fully compliant. This historical record can be used to show that your volunteer workforce is job ready and that they were properly inducted into the workplace and their job role.
Automatic Re-Inductions
Commonly an annual re-induction is required for all volunteers still active and engaged in the workplace to ensure they remain up to date. Things change, workplaces evolve, procedures are updated, new hazards are in the workplace and there are new risks to workers. It's important to make sure volunteers remain up to date in order to work safely.
View Example Volunteer Inductions and Templates
Check out our library of different ready to go templates and sample inductions right here:

Create an Online Volunteer Induction
Try using our online induction creator to build your first volunteer online induction right here: