Online Induction >> Hotel Induction
Hotel Induction: Templates and Create Hotel Inductions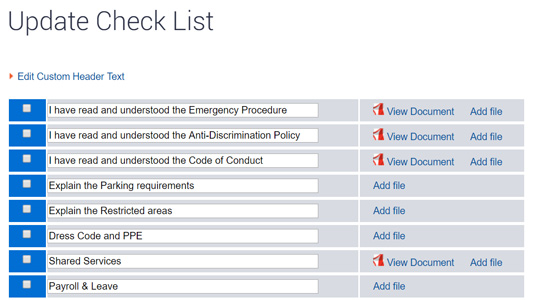 A hotel induction is used to induct contractors and employees into a hotel they are working at. It typically involves a hotel specific overview of the safety and HR procedures and policies in order to be engaged by and work in the hotel. It can be role specific where you might establish a maintenance contractor induction or a hotel cleaners induction or it might be site specific to the emergency procedures, floor plans, hazards and safety measures specific to the building and hotel rooms being managed.
View Templates, Forms and Examples

Hotel Safety Policies, Awareness and Procedures
In a hotel induction you typically cover a wide range of important areas that ensure the workforce are engaged and are safe to work on site. To start with, the induction might at a high level go about ensuring contractors and employees understand and comply with the work health and safety regulations in relation to working at a hotel and the environmental protection act. It might also cover:

Emphasising hotel contractor requirements

providing important information about safety / WHS and environmental hazards and risk that workers might encounter during their work at the hotel

Ensuring contractors and employees are going to be working in a safe working environment

what they need to know about safe plant and equipment and safe access to site
This might be delivered via a
hotel induction checklist
Hotel Contractor Induction
For contractors working at the hotel:
- What licenses and certifications does the contractor need on site?
- How do they report incidents they witness or are part of
- Requirements for presenting induction certificates and evidence of certification and training
- An overview of hazards, controlling hazards and risks with hazards
- When to provide a safe work method statement
- Security access
- Alcohol and drugs policy
- First aid on site at the hotel
- Emergency Procedures and the specific hotel instructions for when there is an emergency
- Permits for when working with electrics, working at heights, roof access, hot works, confined spaces, isolation and digging
- Manual tasks
- Housecleaning / Cleanup
- Contractors maintaining a high cleaning standard in all hotel areas when working Removing rubbish and unwanted or scrap materials and ensuring the work area is cleaned and left in a tidy state before vacating the areas
Want to try creating a hotel induction?
Try our online induction creator right here: