Online Induction >> Onboarding Program >> Contractor Strategy
Published 05/12/2022
Contractor Onboarding: Strategy and Setup Tips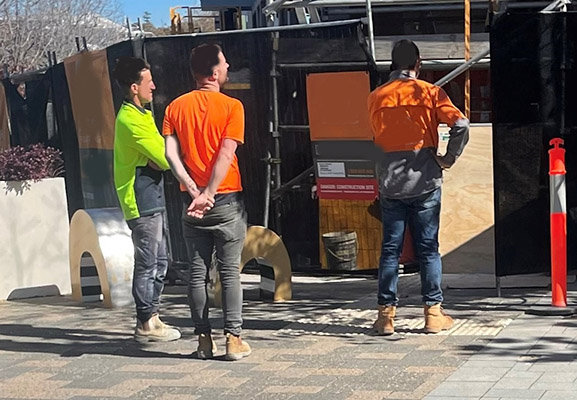 Building a good onboarding strategy for your contractor onboarding process and setup starts with first unpacking why it's important and what goals you are aiming for. Contractor safety onboarding is important because it ensures that contractors are aware of their obligations and responsibilities when working on a job site. It also ensures that contractors are well-versed in safety protocols, understand their roles and responsibilities, and are prepared for any potential hazards or risks on the job site. This helps to keep everyone safe and minimizes the risks associated with working in hazardous environments. Contractor safety onboarding also helps to ensure that contractors are equipped with the right safety equipment, understand their roles in the event of an emergency, and are up to date with any new safety regulations or changes.
Onboarding contractors
is important for several reasons. Firstly, it helps to ensure that contractors are familiar with your company's processes, procedures and policies. This helps to ensure that contractors are able to work more efficiently and effectively, and it also reduces the risk of legal and compliance issues. Secondly, it helps to ensure that contractors are aware of the expectations and responsibilities that come with the job. Finally, it helps to build relationships and trust between the company and the contractor, which can help to ensure successful collaborations. This is going to form part of your overall
Onboarding Program
.
View Onboarding Templates, Forms and Examples

Setting up a Subcontractor Onboarding Plan
- Pre-Onboarding:
- Establish pre-onboarding communication: Make sure to communicate with the subcontractor prior to their onboarding
- Introduction:
- Introduce the subcontractor to the team: Introduce the subcontractor to the team they are working with and explain the roles and responsibilities of each team member.
- Training:
- Provide job-related training: Make sure that the subcontractor has the required job-related training necessary to complete the tasks assigned.
- Documentation:
- Prepare documentation: Prepare any necessary onboarding paperwork and other documents that the subcontractor may need to complete work.
- Review:
- Review the onboarding process: Review the onboarding process with the subcontractor to make sure that they understand their role and the expectations of the team.
- Finalize:
- Finalize onboarding process: Once all documentation is complete and all training is finished, finalize the onboarding process and welcome the subcontractor to the team.
5 of the Best Tips for Onboarding contractors
- Make sure that the contractor has a clear understanding of the job: When onboarding a contractor, ensure they understand the job they are being hired to do and the expectations they need to meet. This includes providing them with a detailed job description and a timeline for completion.
- Provide them with the right equipment: Make sure that the contractor has the necessary equipment to do their job effectively. This includes computers, software, or any other materials they may need.
- Set expectations: Clearly communicate what is expected from the contractor and what their deliverables should be.
- Have a clear payment structure: Make sure that the contractor is aware of the payment structure, including any bonuses or other incentives for meeting goals or deadlines.
- Stay in touch: Check in with the contractor regularly to make sure that they are on track and to provide any guidance or feedback they may need.
Using onboarding programs for contractors
Onboarding programs can be a great way to manage contractors as they provide a structured approach to welcoming, orienting, and onboarding new contractors. It also helps to set expectations and provide a consistent onboarding experience for all new contractors. Onboarding programs should include activities such as providing an orientation to the company and its policies, introducing the contractor to the project they will be working with, and providing any training or resources needed to complete the job. Additionally, onboarding programs can help to ensure that contractors are equipped with the necessary tools and resources needed to do their job effectively and efficiently.
- Orientation: A comprehensive orientation program should be established for contractors that outlines the company's mission, values, policies, and procedures.
-Training: Training should be provided to contractors on any relevant safety regulations, as well as the company's specific rules and guidelines related to their job.
- Communication: Establish clear communication channels that contractors can use to ask questions, provide feedback, and get clarification on any issues that may arise.
- Support: Provide contractors with access to a dedicated point of contact that can answer questions, provide resources, and offer support.
- Recognition: Acknowledge contractors for their hard work and dedication by recognizing their accomplishments and providing feedback.
- Evaluation: Periodically evaluate the progress of contractors to ensure that they are meeting the company's expectations and objectives.
Try our Online Contractor Onboarding Program

Signing in contractors on site
Once you've onboarding contractors, make sure to sign them in on site. This process can help cross check that contractors arriving on site have actually go through the onboarding process. If the sign in process detects they haven't, they get prompted to do the contractor onboarding process.
Signing in contractors on site is an important part of ensuring safety and security on the worksite. Having a system in place helps ensure contractors are identified and tracked throughout the duration of their work on the site. This can include requiring contractors to present valid identification upon entry, issuing them a visitor badge, and having them sign in and out of the site. The contractor should also be provided with any relevant safety information and training before beginning work on the site. Additionally, it is important to record the time and date of their entry and departure, as well as any other relevant information. All of this information should be easily accessible to all necessary personnel on the site.
Try creating an online contractor onboarding experience
See how your onboarding workflow looks for your contractors using a ready to go contractor onboarding platform! Register for free here: