is the most modern way to engage and sign in your visitors and contractors on site. Available on both the Apple app store and Google Play, download the Work Sign app for visitor sign in and sign out on site or for contractor sign in and sign out. The most modern technology in visitor sign in on site. With features including the ability to GPS location stamp visitors and contractors as they arrive on site, capture photos, issue stickers and cards and complete a short induction.
Using the app you can sign visitors and contractors in and out of site as they arrive to track who is currently on site right now, when did staff and visitors arrive on site, how long they spent on site, GPS track which sites they were at and much more.
Ensure an induction has been down before they arrive on site, collect next of kin information, emergency details, acknowledge policies and procedures and complete an induction.
Engaging Visitor Management Sign in App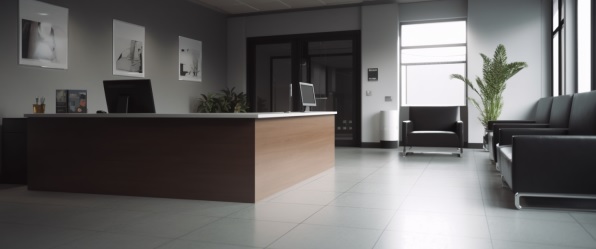 The Work Sign app is perfect for signing in visitors on site. Get them through a short visitor induction, understanding emergency procedures, enter in next of kin and emergency contact details, capture their photo and more. You can then view who is currently on site, historical sign in data, number of times in and out and other sign in metrics.
Create truly engaging visitor experiences that are quick but effective and establish a real-time registry of who is on site right now for emergencies or with historical sign in data.
- Engaging welcome experience for visitors
- Contractor Induction and safety orientation or check list
- Emergency procedures
- Prescreening form options
- Notifications
- Photo capture
- Facial recognition
-
QR codes
- Issue passes or sticker print out
Free Options
- Free for employees and contractors to sign in / sign out
- Free trial of the app for companies
- Setup sites for QR code sign in / sign out free / create unlimited posters free
Why use a Visitor Sign in App?
An app is a modern way to replace the old visitor sign in book. It builds a digital database of who has signed in on site, cross checked against compliance and induction training. Can you really afford to have staff on site who aren't inducted, have a poor safety record, have expired insurances or are a high risk unchecked worker? Using the Work Sign app, you can in real-time cross check all these areas upon sign in to ensure the person signing in, is in fact compliant and should be allowed on site.
Mobile or Tablet
Set up a tablet in reception, wall mounted or on a stand or you can sign in staff, contractors and visitors directly off their mobile. Available on both Android and Apple iPhone / iPad.
Easy Staff and Contractor Sign On and Off
Make it easy for staff and contractors to sign on and off from the job, the workplace and other locations. From a QR code poster option where hardware isn't suited for a location (and staff simply scan the QR code to sign in and out) through to using a tablet as a kiosk type setup, the entire process can be quick and easy to sign on and off.
Automatic Sign Off Reminders
If staff forget to sign out, they can be sent automatic reminders to check if they are still on site
- are they working alone and lone worker checks
- are they stuck somewhere, did something happen? are they ok?
- automatic sign out after a certain time is another option too
Setup a Visitor Sign in Portal
Setup a dedicated portal to track all sign in activity. Filter by site, setup site specific logins, site specific notifications, induction content to show, emergency alert tools and have a registry of all historical sign in activity.
Create custom sign in workflows
Create a custom sign in experience for your visitors, consultants, contractors and staff such as prescreening on health history, going through important safety messages such as an evacuation plan, capturing their photo through to custom notification rules and workflows.

Try signing in your visitors
See how your sign in process could work using the Work Sign app. Create a free account here:

GEO Fence the Workplace for Automatic Sign In
Creating geo-boundaries around different buildings or the workplace as a whole to create a geo-fence so that staff, contractors and workers can sign in and out as they enter or exit the geo location. This is ideal for locations that you can't have a tablet setup at. Remote workers or remote locations would be a perfect location for this type of sign in method.
Setup a Sign in Reception Experience
Using our sign in app on some tablets, you could create a sign in reception experience to welcome your visitors and contractors and ensure they go through a consistent sign in process with the appropriate compliance and prescreening checks.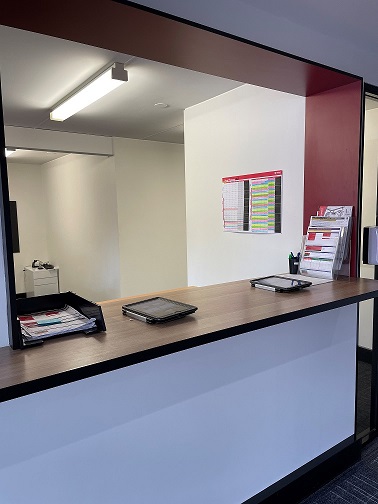 Example reception visitor sign in setup
Using an app is the most modern way for visitors to sign in to a workplace because it provides an efficient, secure and streamlined process for visitors to register and authenticate their identity. With an app, visitors no longer need to fill out paper forms and sign in logs, but rather can quickly enter their information and be granted access to the workplace. In addition, using an app can provide additional security and safety benefits, such as real-time notifications when a visitor arrives and the ability to restrict access to certain areas or people.
Signing in is important for visitor management, security and safety in the workplace. It helps to keep track of who is on the premises, when they arrived and when they left. This can assist with the investigation of any incidents or security breaches that may occur. It also helps to ensure the safety of visitors, staff and the workplace environment.
iPhone and Android Wallet for Sign in / Sign out
Setup a sign in wallet as an iPhone or Android mobile wallet passport. This acts as a digital passport for your staff. They could use it from their phone's Apple wallet as an induction and compliance passport. It has a QR code on it which could also be used to sign in and sign out on site. Supervisors could also scan it for a spot check on compliance.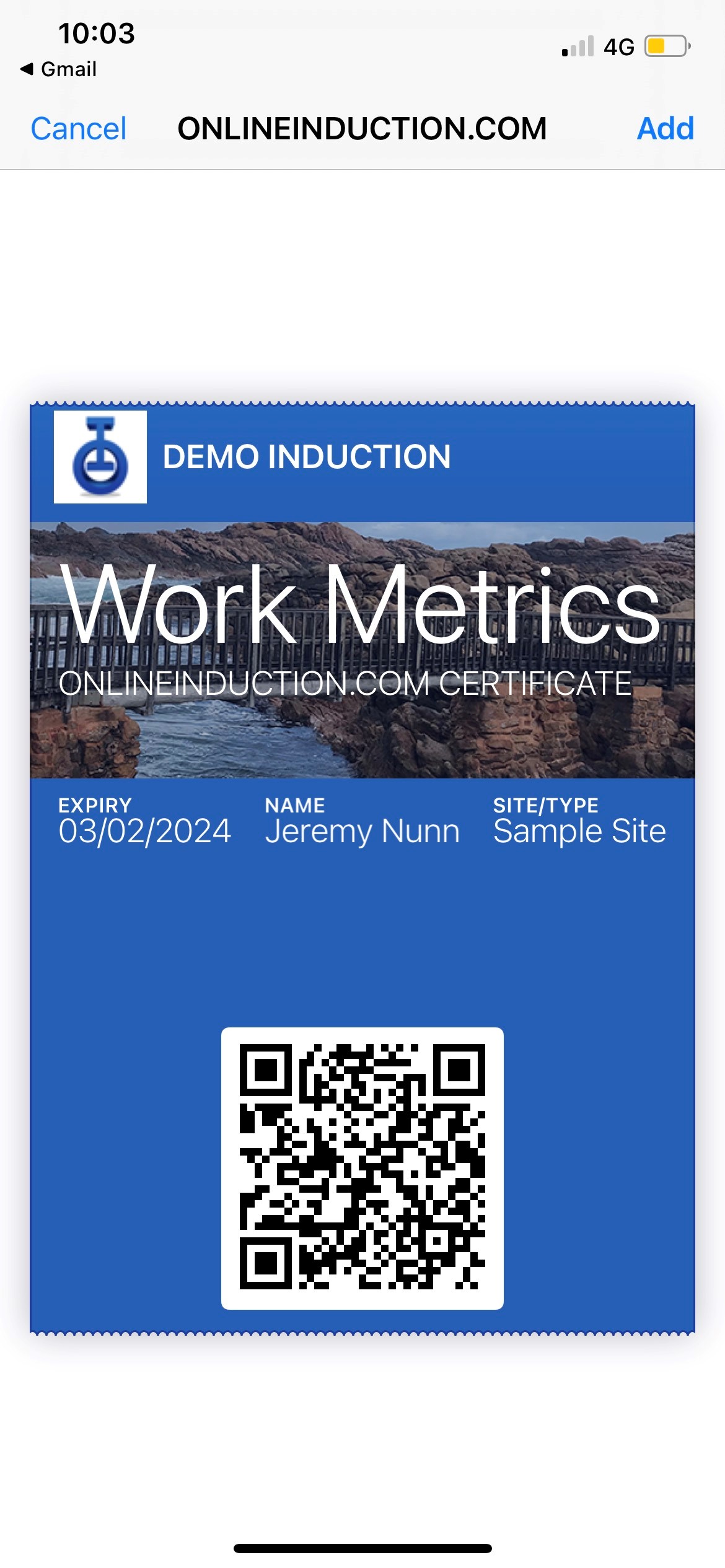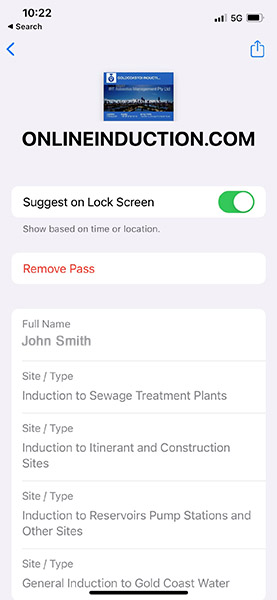 Sign In Prescreening Form
A most critical workflow at the moment is the ability to prescreen all workers and staff upon arrival on site around the flu and medical history to check for infectious disease risks and contact history. Upon sign in on site, asking workers questions such as:
- Have you got a fever or have you had a fever in the last 14 days?
- Do you have or have you had a cough in the last 14 days
- Do you have or have you had a sore throat in the last 14 days
- Do you have or have you had shortness of breath in the last 14 days
Looking at their contact and travel history as well and generating alerts warning the workplace when someone is considered a potential risk.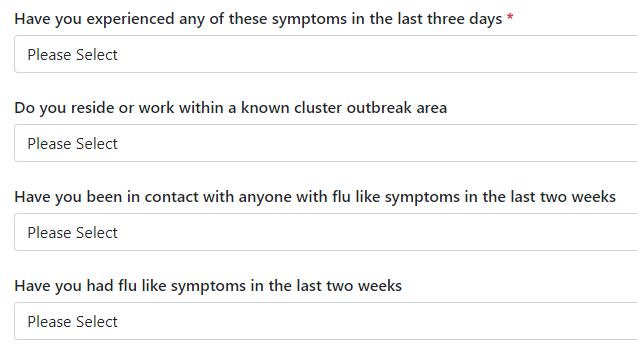 Ready to try the Work Sign app?