Online Induction >> Visitor Sign In System
Visitor Sign In Registration System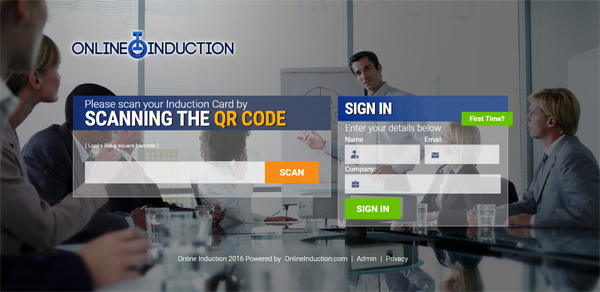 Setting up a visitor sign in registration system enables you to register all visitors who come in and out of your workplace. A register of visitors who are coming in and out of your workplace is critical for a number of reasons. Firstly, its important to know who is currently on site and visiting your staff in the event of an emergency. A live register of who is currently on site allows you to quickly check this list and use it for fire warden processes to make sure each visitor is accounted for. Another critical thing is know which visitors are coming into your workplace and from which companies and how often. Do you want these people in your workplace? are these visitors supposed to be coming in? should anyone be prevented access?
Sample Visitor Sign In Register
These are the common fields you might have on your visitor register and even what it might look like:


Contact details and identification of who is signing in

What company are they from

Who are they here to visit?

What time did they first arrive today?

Times in and out

Are they currently on site right now?

Have they done a visitors induction?

View their card or sticker issued

GPS location if you have multiple sites
What happens when there is no visitor registration
- Visitors come and go undetected and are not tracked
- You don't know who is on site right now
- You don't know is visiting who
- You don't know which companies are visiting your offices
- In the event of an emergency, you can't alert visitors on site as to what to do and where to do (they don't know your emergency response plans, procedures and exits)
Setup your own Visitor Registration System
Try creating your own visitor registration process online