Online Induction >> Contractor Induction >> Safety Policies
Safety Policies for Contractors Inductions
What are they?
Safety policies are put in place to ensure WHS standards are being met as an employer and as a contractor who is conducting work for your business or operating on your business's site. All contractors must adhere and agree to certain policies put in place by the business they are working for and furthermore by the government as every state has strict WHS guidelines and standards for all industries.
Why do you need them?
Businesses need to make sure contractors adhere and agree to these policies to avoid any illegal activity and potential lawsuits. It will also:
- Reduce and diminish WHS risks
- Improve prevention and reduce impact of potential injuries and illnesses
- Ensure contactors are trained, aware and motivated to manage hazards and risks
- Improve the business's capability to identify, eliminate and manage risks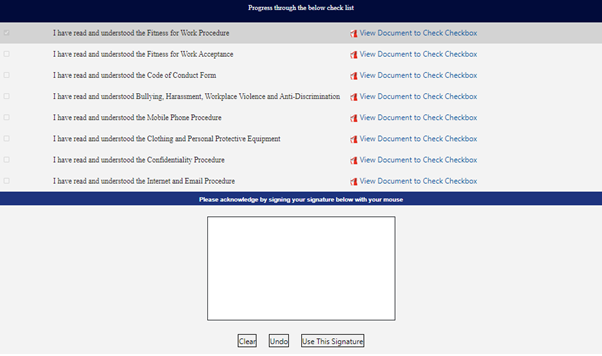 Try setting up a
Contractor Induction
for your organisation and using some of our ready to go contractor protocol templates and resources.