Online Induction >> Contractor Questionnaire
Published 05/07/2023
Contractor Questionnaire: Design, Tips and Setup
When you get the right contractors for the job, you're assured of quality, timeliness, and less financial and emotional stress. However, it would be best to have a contractor questionnaire to get the best out of the selected candidate. The primary purpose of these questionnaires is to collect sufficient information about the candidate to help in evaluating their qualifications for a better relationship.
Choosing the right contractor is an integral part of the entire process. The main goal is to ensure you vet their work quality in advance, clearly outline the work to be performed, agree on the scope of the work, and inquire whether the candidate is appropriately insured and licensed in case issues arise. This might form part of your overall
contractor management system
and be implemented through the
contractor induction
.
View Templates, Forms and Examples

Contractor Questionnaire Templates
Looking to create one online? Check out these templates and our online contractor questionnaire builder
- Supplier questionnaire template
- New contractor template
- New vendor questionnaire
- Safety review questionnaire template
- Contractor performance and feedback questionnaire
Plus many more questionnaire templates you can edit and use!


Creating Contractor Questionnaires to Prequalify Contractors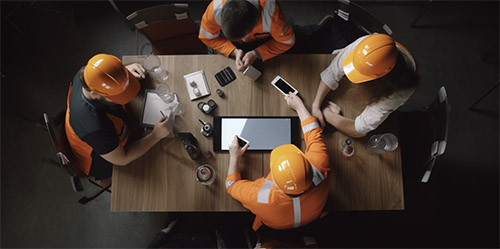 When evaluating new contractors, make sure your prequalification checklist has the following:
- Personal/company details
- Insurance cover details
- Licensing information
- Financial information
- Relevant experience
- Work history
- Estimates
- References
- Environmental management, quality assurance, equal opportunities, and health and safety policies
- Professional ability, capacity, and capability information
All the information requested should be relevant, straightforward, and proportionate to the project size since prequalification primarily entails determining the contractor's ability, performance, and management processes.
Contractor evaluation is a significant part of performance management, which helps achieve the organization's goals. Also, make sure to check and assess the contractor's quality, schedule, regulatory compliance, permitting, business relations, communication skills, and safety management practices.
Contractor questionnaires are ideal in streamlining the development of prequalification programs in any organization. They assist in collecting and reviewing information about the contractor which is relevant to the project being executed. It's also essential to include all the necessary departments such as risk management, finance, project management, legal, purchasing, and safety department during contractor prequalification.
This can be a component in the
permit to work
process. You might also include questionnaires as part of reviewing and approving
safe work method statements
or even distributing it as a
Take 5
in relation to ongoing contractor job activities.
New Supplier Questionnaire
When engaging any new supplier, its important to evaluate their safety and risk performance history in order to qualify if they really should be a new supplier to your organisation. This is often down with a new supplier questionnaire that examples the finer details of the systems, processes and procedures they have in place as an organisation as well as looking at their specific safety history and risk level. Are they a high risk supplier? do they have poor safety history? what kind of quality and performance history do they have in place? Do they have the right systems and processes in place for their own employees?
Use Contractor Questionnaires to Ensure Contractors are Compliant and Performing Safe
Contractor questionnaires are an effective tool to ensure that your contractors and subcontractors are compliant and performing safely. Their employer might tick all the boxes and say they have every system in place under the sun but the actual end worker who is working on your site and doing the actual job activity might have drastically different feedback. These metrics help determine if there are any problems early on especially around compliance, safety and performance and could potentially prevent an incident from happening before it's too late. Uncover feedback around your workplace, site, procedures being followed, systems in place and much more directly from the contractor using a contractor questionnaire.
But what are the common prequalification questions to ask the contractors?
In prequalification, you should prepare a shortlist and screening questions for the contractor. The response to these questions must be reviewed and assessed after completion in order to help evaluate the contractor for the job to be done. Additionally, prequalification questionnaires should be very focused and straightforward to complete.
The contractor questionnaire assessment is a very useful tool and process for evaluating the ongoing quality and performance of contractors working on site. Especially when going from job to job, this tool allows you to create a full 360 picture of their overall and ongoing performance especially around risk and safety on site.
View Contractor Questionnaire Templates or Create One
We have a huge library of questionnaire templates you can use or just create one from scratch